Saturn Awards: Producer Dean Devlin teases two more "Independence Day" films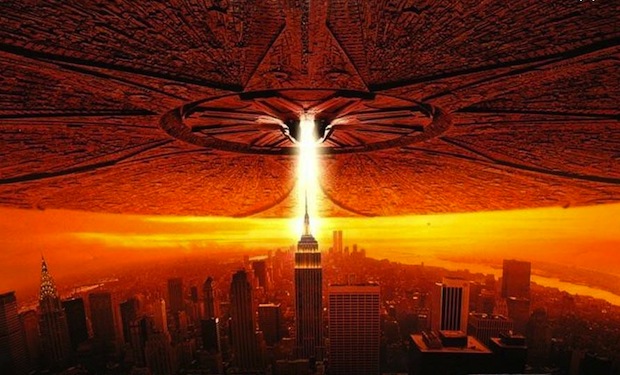 Posted by Terri Schwartz on
We've been hearing rumors of an "Independence Day 2" for years now, and finally we're closer than ever to it happening.
Producer Dean Devlin recently told The Hollywood Reporter that he and Roland Emmerich are working together on a great idea for the sequel to the 1996 hit. IFC had the chance to catch up with Devlin on the Saturn Awards red carpet where he was representing his award-winning show "Leverage," and he said that "Independence Day 2" doesn't feel contrived.
"I don't know if we're going to be able to pull this off but, if we can, what was important to Roland and I is we make a sequel that doesn't feel like, 'Hey, we had a movie that was a hit, let's go make another one,'" he said. "We resisted it for years and it was really only about a year and a half ago where we cracked a story where we both went, 'Oh my god, that's worth doing.'"
Would he give us any tease about what that script entails? Of course not. But he did say that they're in the process of talking to the original cast, which included Will Smith, Jeff Goldblum, Mary McDonnell and Bill Pullman.
"We went off, we wrote a script, and the people who've read it, they've all said, 'This feels like you always planned it this way.' And that's what we wanted, because we owe a lot to that movie," Devlin said. "It gave us careers, fans really liked it, and we never wanted to just go whip out some crap-o sequel just because it would make us money. We believe in this one. We think we've got the right one to tell."
A lot of time has passed since July 4, 1996, but Devlin said there's no guarantee that the sequel will jump forward the decade and a half that has passed since "Independence Day" hit theaters. And even if it does, the post-alien attack Earth in the sequel will be very different than the world we live in now.
"You have to remember it's a parallel world. Al Qaeda didn't knock down the World Trade Center — it was already knocked down. It calls for different storytelling techniques, so it was a lot of fun to work on in that regard," he said.
We've been hearing for a while that the plan is actually to do two more "Independence Day" films, and not just one. Devlin confirmed that during our red carpet chat.
"If we get our way, then yeah, we would do two more," he said with a smile.
Do you want two more "Independence Day" movies? Tell us in the comments section below or on Facebook and Twitter.