Saturn Awards: Bruce Greenwood explains why J.J. Abrams isn't spoiling "Star Trek 2"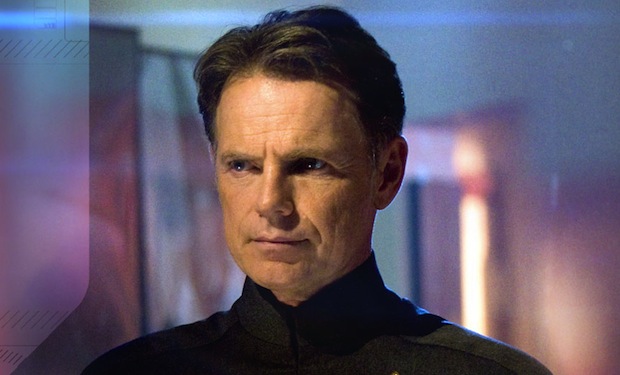 Posted by Terri Schwartz on
We know next to nothing about "Star Trek 2," and that's exactly how J.J. Abrams would like to keep it. The director has done everything within his power to try to protect fans from finding out too much about the movie before it comes out, and he's succeeded despite leaked photos and an ever-turning rumor mill.
What we do know is only that certain actors — like Bruce Greenwood — will be returning for the sequel, and that Benedict Cumberbatch will play an unrevealed villain. Greenwood played Christopher Pike, the first captain of the USS Enterprise, in "Star Trek," and seemingly will reprise his role this time around. IFC caught up with Greenwood on the red carpet for the 38th annual Saturn Awards, and we asked him why he thinks Abrams goes to such great length to preserve secrecy around his projects.
"So the audience can have an experience that isn't complicated by having to pretend they don't know what happens," Greenwood answered. "It makes it trickier to conceal things so that when you see it for the first time you don't know what's coming, but that's okay. You can't blame people for being interested and excited, trying to find out. But everyone who's involved in the film is committed to keeping it under wraps."
Still, we'll have to know something about the movie at some point. It's due in theaters on May 13, 2013 and eventually a trailer for the film is going to be released. Christopher Nolan did his best to keep secrets about "The Dark Knight Rises" under wraps but, once Warner Bros started laying the marketing on thick, it became increasingly hard to avoid trailers or TV spots. So how will Abrams deal with this issue? We posed the question to Greenwood.
"I don't know," he said. "That's interesting, yeah. Maybe we shot a trailer that had nothing to do with the movie."
We certainly hope so. But "Star Trek 2" isn't the only big movie on Greenwood's horizon. He stars in Derek Cianfrance's "The Place Beyond The Pines," which will make its premiere at the Toronto International Film Festival. In addition to congratulating him for that accomplishment, we asked Greenwood what he's excited for his fans to see.
"Derek is such an interesting director and asks people to improvise so much that I think the movie is really going to feel alive."
"The Place Beyond The Pines" also stars Ryan Gosling, Bradley Cooper, Rose Byrne, Eva Mendes and Ray Liotta.
Do you like Abrams' mentality on spoilers? Tell us in the comments section below or on Facebook and Twitter.