The meta qualities of "Ruby Sparks"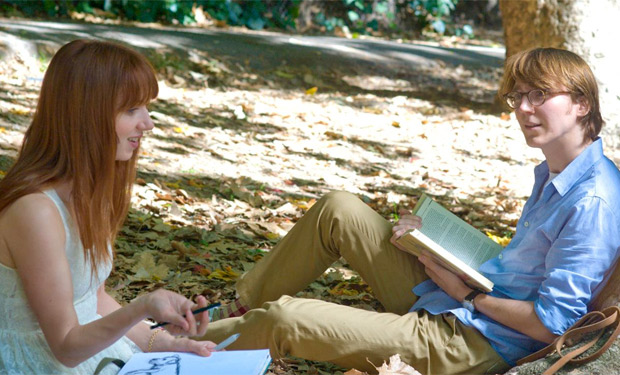 Posted by IFC on
By Jennifer Vineyard
When actress Zoe Kazan started writing "Ruby Sparks," she came up with two main characters, Calvin, whose love life has been barren of late, and Ruby, his dream girl. Kazan's real-life boyfriend, actor Paul Dano, turned to her later reading the first few pages, and asked, "Are you writing this for us?" "And she said, 'Yes,' but I think she just realized it then," he told IFC.
This wasn't because Kazan is also Dano's dream girl, because the movie takes the literal approach to the phrase — Calvin dreamed up Ruby, and then she physically manifested, as if her very existence was dependent on his idea of her. And then, as Calvin learns, he can control his creation, too. If he types a line about Ruby speaking perfect French, suddenly she's doing just that — completely unaware that she's switched languages. Anything that displeases Calvin, he can tweak — if she's too needy, or not needy enough.
Considering that while Calvin controls Ruby by writing her, and Kazan controls Dano by writing his character, the realization of the story has a certain meta quality, "just that the roles are reversed, right?" Dano laughed. "She wrote it, and I'm an actor, so the words she wrote in the film are the ones that I write for her, and she's saying things that I write that she wrote for me."
But that's where the Pygmalion-ness of it all ends in real life, he insisted. "It doesn't go beyond, 'This is ironic,' or, 'This is interesting,'" Dano said. Although he did get to have a certain amount of input in Kazan's script, but only as a supportive boyfriend.
"I would engage her and ask questions and be there for her, but I certainly did not try to shape any of the characters in any way," he said. "I trust Zoe and she's a wonderful writer, so I let her do her thing, and did anything I could to help her. I rarely thought about it in terms of, 'I'm going to be in this.' It was more like, if she were stuck, saying, 'Keep going, baby!'"
Dano's biggest contribution — outside of his own acting — was to hook Kazan up with his "Little Miss Sunshine" directors Valerie Faris and Jonathan Dayton. "About ten pages into Zoe writing it, I was like, 'Jon and Val should direct this,'" he said. "And so for the rest of her writing, she was writing for them. They were the dream choice."
Faris and Dayton — a couple themselves — had previously met Kazan, since Dano had stayed in touch with the directing team over the past six years. "I told them, 'You have to meet my new girlfriend. You'd really like her,'" Dano said. "And luckily, it worked out, and the four of us had a very good collaboration."
Faris said they spent about nine months working with Kazan, "developing and just working on the script, and getting to know it and getting to know her." And for her part, Kazan learned to let go and give the directors control. "It was John and Val's movie at that point," Dano said.
After a few days of shooting, Dano also learned to put aside his self-consciousness about having his girlfriend take on dual roles. "Does it exacerbate it to have your girlfriend on set, on a scene that she's the writer, so she's watching? Yeah, there is that," he said, "but you move on pretty quick. She was more like my partner-in-crime."
Dano doesn't expect to have quite the same level of input on any of his next projects — but then again, he's usually not living with the writer. "It's definitely different," he laughed. "This one feels very personal, which is nice. Not every experience is going to be like this."
"Ruby Sparks" is now playing in limited release.
Will you be seeing "Ruby Sparks" this weekend? Tell us in the comments section below or on Facebook and Twitter.