Jonathan Dayton and Valerie Faris on the lost years between "Little Miss Sunshine" and "Ruby Sparks"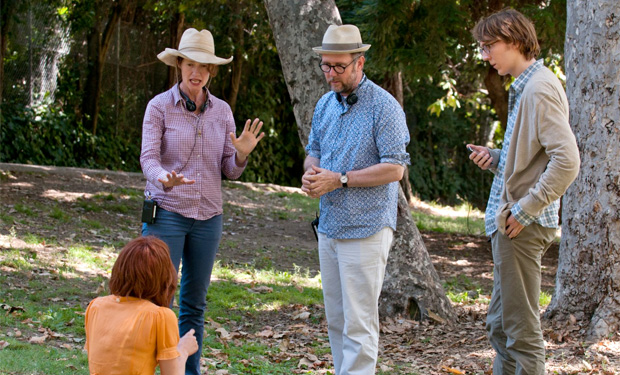 Posted by IFC on
By Jennifer Vineyard
"Ruby Sparks" is the first film from husband-and-wife director team Jonathan Dayton and Valerie Faris since "Little Miss Sunshine" — so what gives? It's not for lack of effort that the pair haven't had another outing in the six years that followed their spectacular Oscar-winning debut, they told IFC, but getting a quality film off the ground is harder than they expected.
"We've been trying!" Faris said. "It's not like we've been on an island vacation this whole time. Do we look like we've just been tanning and relaxing?"
"I wish!" Dayton laughed.
The directors have had a "steady stream" of offers and projects since "Sunshine," Dayton said, but they were wary of the prospect of a second effort not coming out right. "The idea of coming out with a bad movie was so frightening for us," he said. "We didn't want a flop," Faris said.
But even before "Sunshine," the pair were notoriously picky, and turned down opportunities to direct "The Mod Squad" (which bombed) and "Bad Boys II" (which then went to Michael Bay). Post-"Sunshine," they considered a number of better quality pictures, several of which would have reunited them with their number one Proust scholar, Steve Carell. These included the adaptation of Tom Perrotta's "The Abstinence Teacher" (which at one point was to star Carell and Sandra Bullock; it's now to be directed by Lisa Cholodenko); "Mail Order Groom" (which was to re-team Carell with Tina Fey post-"Date Night"; "Will" (which had Paul Rudd and Zach Galifianakis attached); and "Used Guys," (which had Jim Carrey, Ben Stiller, Reese Witherspoon, and Danny McBride attached). All of these proved to be false starts, and the couple continued to make their living by directing commercials in the meantime.
"There were all these things that we really loved about each of those," Faris said. "But there was always something that wasn't quite finished or wasn't coming together. It's hard to get the right elements together, get the right cast, get them at the time you need them, get the script completely there, and get the right budget."
"Used Guys," which would feature a futuristic world ruled by women, is one that might still happen. "It's a fun project and it could come back," she said. "We spent a year developing it, and the visual language of that movie. It's a great concept." And just as readers found in the graphic novel series "Y: The Last Man," a world ruled by women wasn't "all Kumbaya," Faris said. "This actually had something to say. It was going to be entertaining and deliver some interesting questions to think about as you leave the theater. It's the biggest movie we ever considered doing."
But like many of the above projects, the bigger the vehicle, the more "we weren't going to be the one people driving the ship," Faris said. "It's tricky when you have a lot of powerful players involved." As self-admitted control freaks, Faris and Dayton also had some trouble surrendering control in a big budget project. "We didn't want it to go just purely broad," Faris said.
"We haven't fully given up on that one," Dayton said. "But it's a perfect example of why it took us so long" to find a film like 'Ruby Sparks.'"
"It's disheartening to us that the kind of character-driven stories we like to do are the hardest ones to get made," Faris said. "We're hoping that it won't take six years for the next one."
"Ruby Sparks" is now playing in limited release.
Will you be seeing "Ruby Sparks" this weekend? Tell us in the comments section below or on Facebook and Twitter.