Why there's no sex in "Ruby Sparks"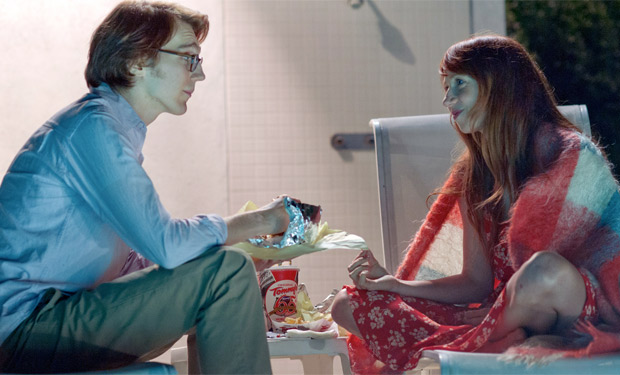 Posted by IFC on
By Jennifer Vineyard
One of Ruby's first lines in "Ruby Sparks" is, "I missed you in bed last night." That statement shocks Calvin, not the least of which because Ruby was, up until that moment, a figment of his imagination. But it's a statement that could also be made by the film's audience, since despite being a romantic dramedy starring a real-life couple, "Ruby Sparks" is short on sex. Sure, Paul Dano and Zoe Kazan kiss, and they even walk around in some scenes with few clothes on, but there's no actual sex scene for this pair. This is intentional, the filmmakers and lead actor told IFC.
"I have no problem kissing Zoe," Dano said. "But I don't think the film needed a sex scene."
"We talked about it a lot," said co-director Jonathan Dayton, "and ultimately, we felt like this film didn't really require a lot of explicit sex. For the most part, it was better to leave that to the theater of the mind, than to show it."
"One of the things we were impressed with Zoe's script was how it covered a pretty large territory pretty quickly," said co-director Valerie Faris. "It didn't feel like we were missing anything [not to have a sex scene], because I love all the places it goes, so we never really lived too long in any one place."
The closest the film comes to a nude scene is when a sleazy Steve Coogan convinces Kazan to strip down to her underwear to join him for a late-night swim, but as soon as she does, Dano interrupts the two. "Steve, we love and have loved," Faris said. "He only came in for a couple of days, but he made that character so much more dimensional because of all he brings to it."
Plus, Coogan's recent turns as a philanderer in "Our Idiot Brother" and "The Trip" helped put the image to mind of what he would have done, if he only had a chance. "It's a gift!" Dayton laughed. "Unfortunately, he just has that quality," Faris said. "But he's a super great guy, and he's in pretty good shape, too. He was in his underwear in the pool and six in the morning, and I felt so bad, because he had to get right back on the plane right after that."
In lieu of sex scenes, the film concentrates on the magical romance between Dano's writer Calvin and his creation Ruby (Kazan's character), who materializes in real life after he's written her on the page. Their relationship, as it is, is tightly controlled by whatever Calvin types, including her every mood; if she starts caring more about her career, all he has to do is type, "Ruby misses Cal desperately," and she comes running back.
"We wanted the magical aspects of it to have a romantic high, and be wonderful to watch," Dano said. "But we wanted the emotions to be real enough so that you would be invested and it feels real, because Ruby is real, even if she came from who-knows-where."
"Once we were there, it was just about Calvin and Ruby," Dano continued. "I think Zoe choose what she thought was best for the characters, and I don't know if she considered our relationship while writing it. I think we would have felt self-conscious if the film felt like our real life, you know? I wouldn't have wanted our real relationship in the film, and she knows me well enough to know that I would be pissed off if that happened. But the story has a life of its own, and it ended up being a good thing that we could bring an intimacy and a chemistry to the characters for their own sake."
Still, for fun's sake, Faris and Dayton joked that they could revisit the sex scene idea for a viral video campaign, and finally "take advantage" of Kazan and Dano's relationship. "If ever there were a time when we could have shot a scene, we had a real-life couple!" Dayton laughed.
"Maybe we can use it for some ads," Faris suggested.
"The 'Ruby Sparks' sex tape," Dayton said.
"Oops! This might just leak out," Faris laughed. "Good idea."
Will you be seeing "Ruby Sparks" this weekend? Tell us in the comments section below or on Facebook and Twitter.