"Robocop" viral ad offers first look at reimagined ED-209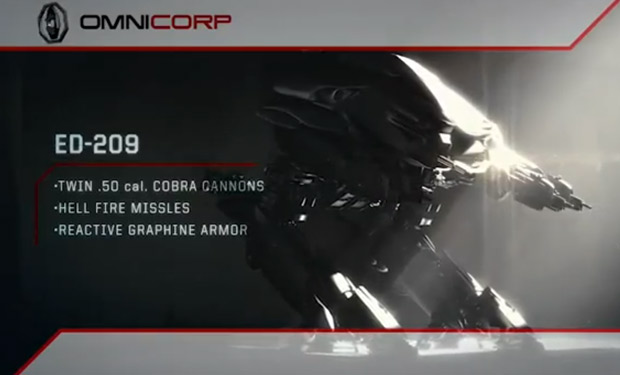 Posted by Brian Jacks on
We're still a year away from seeing the fruits of a freshly rebooted "Robocop," but that hasn't stopped MGM's marketing department from releasing a new viral ad that's sure to get fans' hearts racing.
The one-minute spot is presented as a product sizzle reel from Omnicorp, the ubiquitous company contracted to take over patrol duties from the Detroit police department. Along with being introduced to a flying drone, we get our first look at the revamped ED-209, the massive mech-like bot which emerged as a crowd favorite from the 1987 original. In its debut scene, it was introduced to the Omnicorp board of directors, and shortly thereafter massacred a hapless executive during a demo of its terrifying arsenal. The new ED-209 appears streamlined from its initial version, although it's sure to pack just as powerful a punch.
We also get a very brief look at the Robocop costume itself, but nothing from the iconic helmet.
"Robocop" is scheduled for a 2013 release, and stars Joel Kinnaman ("The Killing") under direction from José Padilha ("Elite Squad").