Professor Blastoff host Tig Notaro talks podcast inspiration and using listeners as guests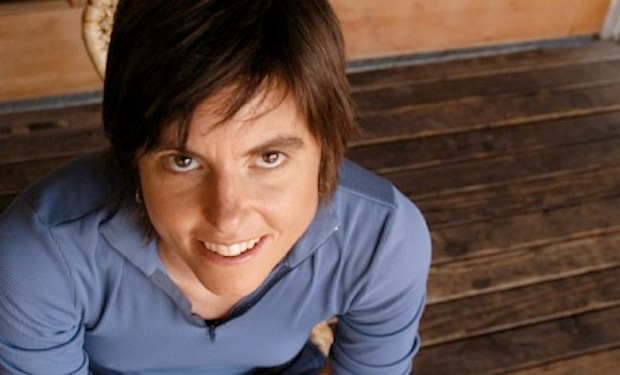 Posted by Todd Gilchrist on
Science is one of those subjects that many people are interested, but many fewer actually know anything about. At the intersection of those two groups is "Professor Blastoff," Tig Notaro's weekly podcast in which she and her two co-hosts wax poetic on all sorts of lofty issues – typically in the service of bringing them down to our level. Notaro, a comedienne and performer, admits she serves a bit as the class clown or proxy audience for the trio, providing the show with an undercurrent of humor that she says she's grateful is as entertaining to her as it seems to be to their listeners.
IFC recently caught up with the incredibly busy Notaro, whose recent appearance on "This American Life" almost immediately begat another one, proving that even if she's not the academic in the group who regularly appears on "Professor Blastoff," she understands the value of a well-conducted experiment. In addition to talking about the process of getting the podcast started, she discusses the adjustments and differences that make podcasting such a unique experience, and offers a few insights into where she's going in the near future.
(Explore "Professor Blastoff" and more in IFC's new podcast section!)
---
IFC: Talk about how you first got involved in actually doing podcasts and how sort of you got acclimated to the process. And how different is it from other sorts of performance that you do?
Tig Notaro: How did I get into becoming a guest on different podcasts?
IFC: Sure, yeah.
Notaro: Just friends having them and inviting me on. Once the whole podcast world started to take off, it just seemed like I started to get an invitation. And it's definitely different than standup and anything like that. It's kind of learning to be conversationally entertaining with more than by yourself, because I'm involving anywhere from three or more people. And it's kind of bizarre, because going through the learning curve, with standup I was able to privately learn how to do standup in open-mic. But with podcasting, it's just being immediately broadcast for everyone to hear. And it was just kind of funny starting out — people are so harsh with their criticism. And I'm certain I have a million miles to go, our show still has a million miles to go — but I think that we've grown a lot over the year.
IFC: How did you come up with the idea for "Professor Blastoff," and how difficult was it to create what would eventually be a format for the podcast?
Notaro: Well, I have a writing partner, Kyle Dunnigan, who is one of my co-hosts, and then David Huntsberger, who is also a co-host, and I just know that these guys in my life were constantly talking about science and religion. And it was just a common theme with these two people that I was with all the time. And David and I were, I think, somewhere in Idaho, and I was like, what if we tried to do a podcast about science? I was the one that got the deal with Earwolf, but they were who I brought in to kind of make it happen — because I don't know stuff about science or anything like that, but I have an interest in it. So I've kind of been the person that's like, wait, what is that? Or this makes no sense. Or I don't know what that word is. David keeps things more on track. He's very much informative, and wants information, and wants to go from point A to point B, whereas Kyle and I will kind of go off the rails a little bit, even though Kyle is more knowledgeable than I am. He is absolutely ridiculous. And some people describe it as a silly NPR. And I feel like another way to describe it is that it's kind of my fantasy situation for my childhood, which is that I get to learn and I get to interrupt, and make jokes, and do stupid things without a teacher telling me to be quiet.
IFC: What was the most conscious adjustment that you had to make from a kind of performance where people could actually see you to where they're just following your interactions audibly?
Notaro: I don't know if I made a conscious adjustment about myself or anything. I know that even though I find David and so many of our guests and people that come onto the show so enjoyable and funny, Kyle is just that person that inspires me and makes me laugh just outrageously. When Kyle's around, it's just I don't ever stop laughing. And it's not quite, I think, what people are used to when I'm seen on stage, because I'm not this giggly ridiculous person on stage. But if Kyle's face appears in front of me then I have no control.
IFC: Sort of further along the lines of the performance in general, how much interactivity are you able to have, and do you want to have with an audience? And how does working on a podcast differ from a live audience where you might be able to feed off of energy as they're sort of reacting in real time?
Notaro: Well, as far as interaction with them, a lot of our listeners are guests on the podcast. We're not really celebrity-oriented, which has been an interesting thing. A lot of those podcasts are constantly bringing in the biggest names and they're trying to kind of boost their numbers in that way. And we're trying to obviously boost our numbers, but we really are trying to have on people that would be good for the show, and are our fans, and are interested in the show. And so I interact in that way, whether they come in or call in. And then with my standup I'm very interactive with the audience. But as far as interacting, I think David is more interactive with the audience.
IFC: What is it about podcasting that you feel like, not just that you enjoy, but what does podcasting allow you to do that other kinds of performances don't let you do?
Notaro: Well, even though I go on stage and do structure jokes, and I also go on stage and improv a lot, I do the majority of my writing on stage where I just talk through ideas. With podcasting, I don't really even go in with any idea of what I'm going to say – and it is really very much as though I'm just hanging out with Kyle and David, my co-hosts. And it's also like personally, beyond the creativity, it's something I look forward to every week. Because with as busy as our schedules get it's kind of that, it's so cheesy, but it's that one hour every week that I know I'm going to go have an absolute great time. And even if we walk out feeling like it wasn't a good episode, we're still laughing at how possibly not great that just was. I love those guys so much, and it just, it kind of just frees me up. And we all explore different stories. With our format we've started just opening the show with what's been going on with each of us. And usually Kyle offers up some atrociously embarrassing story, and he's typically not like that. His standup is nothing like that. So we all kind of just come in just kind of free of everything, which is so much fun. It's just a completely different thing from standup, and every other world of entertainment that I've worked or dabbled in.
IFC: Gotcha. What are you working on now, and what's coming up for you?
Notaro: Well, I just did "This American Life," and Ira Glass called me a couple days after my segment and said that they wanted me back immediately. So I'm now working on two new pieces for "This American Life." So that's kind of a big focus for me right now. And I'm working on new material just for my standup. And I have a movie coming out with Lake Bell, Demetri Martin, and Nick Offerman and it's called "In A World." And I can't remember what I have going on — just touring here and there. I don't know, I don't know. I have a couple projects that I'm working on that are not needing to go into specifics. But that's pretty much what I'm doing.
IFC: With all of these different things in the works, are podcasts a foundation for the other stuff that you're doing? Or is it a respite from the other stuff that you're doing?
Notaro: It's definitely more relaxed. But I would say it's really my baby. Like, it's not some place I just show up and kind of be like eh, no cares, no stress. There's not really stress to it, but it definitely feels like I go meet with Kyle and David every week and somebody secretly mics us, and everybody that listens gets to hear it. But to be honest, it has gotten more popular than I ever would have thought. We may have low self-esteem, but we all were a little surprised that people took to it.