Peter Jackson to make "The Hobbit" a trilogy?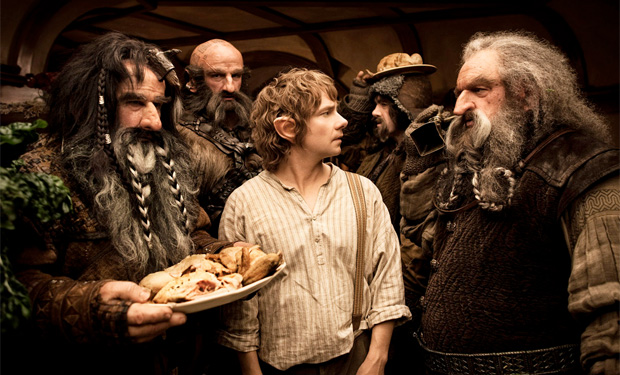 Posted by Terri Schwartz on
It seems like Peter Jackson wants a prequel trilogy to match his Oscar-winning "Lord of the Rings" series. After splitting his adaptation of "The Hobbit" into two films that were fleshed out by the Appendixes at the end of "The Return of the King," Jackson is now petitioning Warner Bros. to let him do a third.
A source tells The Hollywood Reporter that a third film would only require two more months of filming in New Zealand next summer and new deals to be written up with the actors involved. It's a guaranteed profit for WB based on the success of the "Lord of the Rings" trilogy and the buzz for "The Hobbit," so we'd be surprised if they pass it up. Apparently we'll know for sure soon.
"If we're going to do it, we have to make a decision soon," the source said. "It's strongly driven by the filmmaker's desire to tell more of the story."
The idea was first introduced when Jackson told fans at Comic-Con that he wants to shoot some more footage for Bilbo Baggins' big adventure. According to an interview he had with Deadline, there's about 125 more pages of material that he could pull from for a third movie.
"There are 125 pages of notes published at the back of 'Return of the King' in one of the later editions. It was called The Appendices, and they are essentially [Tolkien's] expanded Hobbit notes. So we had the rights to those as well and were allowed to use them," Jackson said. "We haven't just adapted 'The Hobbit'; we've adapted that book plus great chunks of his appendices and woven it all together."
He continued, "The movie explains where Gandalf goes; the book never does. We've explained it using Tolkien's own notes. That helped inform the tone of the movie, because it allowed us to pull in material he wrote in 'The Lord of the Rings' era and incorporate it with 'The Hobbit.'"
"The Hobbit: An Unexpected Journey" is due out on December 14, with "The Hobbit: There And Back Again" hitting theaters on December 13, 2013. A third movie would likely come out on December 2014.
Would you want a third "Hobbit" movie? Tell us in the comments section below or on Facebook and Twitter.