"Ninja Turtles" still delayed, but plot synopsis released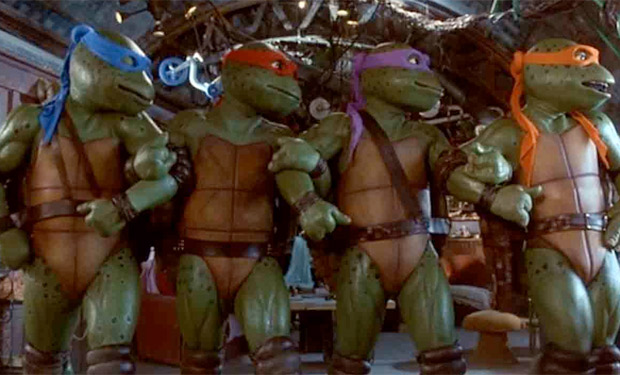 Posted by Terri Schwartz on
Michael Bay and Jonathan Liebsman's planned reboot of "Teenage Mutant Ninja Turtles" might not be coming out any time soon (or ever), but that doesn't mean we can't keep finding out more about what might have been. Despite the plan to ditch "teenage" and "mutant" out of the title, the film actually could have ended up being pretty close to the classic Turtles stories we know and love.
Comic Book Movie recently snagged a synopsis of the original Kevin Eastman and Andre Nemec-penned script for "Ninja Turtles," which is currently undergoing major rewrites. This plot summary might not be indicative of the final product that we see several years down the road, but it at least gives us a good idea of what Bay, Liebesman and Paramount had in mind with this film.
"After their planet's destruction, four turtle-like alien warriors and their master come to Earth, where they join forces with reporter April O'Neil to prevent the extradimensional conqueror Krang from enslaving the human race," the synopsis reads.
The alien element still sounds weird, but the rest of the summary sounds pretty close to what we've seen in previous "TMNT" storylines. And those aren't the only things that might be similar. Back in June, Latino Review's El Mayimbe got his hands on a copy of the script and tweeted the names of some familiar characters and locations that he saw pop up in it.
"Skimming through Turtles, I see KRANG and THE TECHNODROME," he tweeted. "Skimming through, I also see BEBOP and ROCKSTEADY and see something called DIMENSION X."
Those names should be familiar to fans of the "Teenage Mutant Ninja Turtles" storylines. Krang, Bebop and Rocksteady are all recognizable villains from the series, while Technodrome is Shredder and Krang's lair and their home is Dimension X. Then again, it could be that Liebesman and Bay have totally revamped those plots as well, so they might not have resembled the older versions anyways.
What are your thoughts on "Ninja Turtles"? Tell us in the comments section below or on Facebook and Twitter.