Motion City Soundtrack's Justin Pierre discusses moviemaking and their single-take "True Romance" video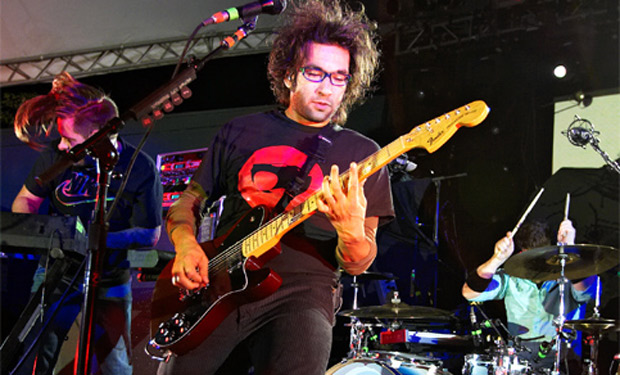 Posted by IFC on
By Chris Harris
Justin Pierre's career path nearly took a totally different turn some 15 years ago.
Before a friend called him and asked him to join Minnesota-based pop punk sensations Motion City Soundtrack, Pierre — the band's frontman — actually had his sights set on Hollywood…and a career as a filmmaker.
"I have always loved movies and TV," says Pierre from a truck stop in Kansas.
Motion City Soundtrack just released a new record — their fifth — called "Go," and have been on tour in the states with The Front Bottoms and Henry Clay People.
"The first thing that really blew my mind, where I was like, 'Oh my God, I want to be involved in this' was when I was a kid and saw 'Twin Peaks,'" Pierre recalls. "I think I was 13. I watched it when it was on television and I was blown away. I thought, 'I want to do this.'"
As a teen, Pierre says he started writing "stupid little films" he'd would then enlist his bored friends to star in. He'd shanghai his parents' camcorder, and bring his short stories to life.
Pierre was serious about leaving his stamp on film.
"When I was 19, I bummed around and worked at a video rental place for a couple of years," says Pierre. "I would make tons of copies of movies, and just watch them over and over and over. Later, I worked as a [production assistant] on several small films in Minneapolis."
One was a movie by filmmaker Eric Tretbar called "Snow."
"I was working on that when someone told me about a film school called Minneapolis Community Technical College; I enrolled, but didn't finish, and was learning all about screenwriting and film making. That's when [guitarist] Josh [Caine] approached me to make music with him."
The rest, of course, is history and Motion City Soundtrack have since left their mark on the musical world — and on the medium of music video.
Pierre admits he still dabbles with film when he has time.
"I once made four short films and maxed out my credit cards, which was a terrible idea because I don't think anyone's ever going to see these movies — but it was a lot of fun," Pierre says.
Pierre and the band also had fun making their new video for the track "True Romance;" Josh's brother, Jesse Caine, directed the single-take clip.
"We are all fans of the one-take video," Pierre says. "With 'True Romance,' at times, there's upwards of 30 people behind the scenes, running up and down the street, stopping traffic, moving cars, running around…even the band members all had jobs. And it was because this video is really involved."
The band did 15 complete takes to get just the right one.
"Growing up in the 1990s, with guys like Spike Jonze always doing these one-take video, it's just always been fun to watch," Pierre adds. "If you do it well, no one notices how much work goes into it."
Pierre says he's excited to see "The Dark Knight RIses" this summer, and has enjoyed two movies this box-office season: "The Avengers" and "2 Days in New York."
"It's amazing," he says of the Julie Delpy-directed flick. "When it comes to my all-time favorite films, I'd have to say its a toss up between 'Stranger Than Paradise' by Jim Jarmusch or 'Faces' by John Cassevetes. Those are my two go-to films of all time."