Marvel short film "Item 47" will star Lizzy Caplan and Jesse Bradford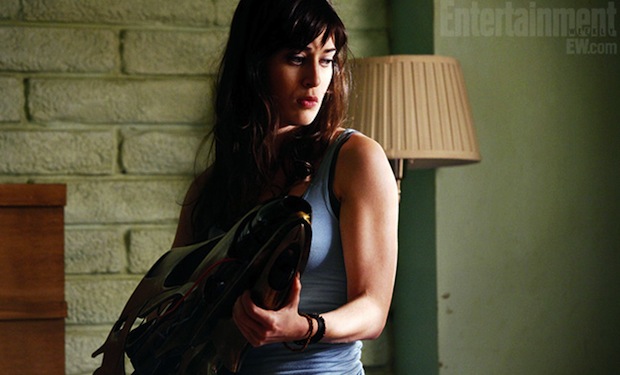 Posted by Terri Schwartz on
As "The Avengers" ushers in the Marvel cinematic universe "phase two" era, so will its home video release introduce us to a whole new world of Marvel one-shot short films. The Blu-ray, which hits stores on September 25, has a new one-shot called "Item 47," but it's not as short as its two predecessors.
"A Funny Thing Happened on the Way to Thor's Hammer" and "The Consultant," the previous two one-shots, starred Clark Gregg and ran about four minutes in length. But with Gregg's Agent Coulson unfortunately gone from the Marvel universe, it gave the studio a chance to experiment with their tried-and-true formula.
Enter "Item 47." Entertainment Weekly reports that this short will run about 12 minutes in length and stars Lizzy Caplan and Jesse Bradford, both newcomers to the Marvel universe. They are two normal people who find a discarded weapon (the titular Item 47) from the Chitauri invasion that occurred in "The Avengers" and go off on a Bonnie and Clyde-style adventure while two S.H.I.E.L.D. agents (played by "The Avenger's" Maximiliano Hernandez and "Lost's" Titus Welliver) try to stop them. Caplan and Bradford's characters are appropriately named Benny and Claire.
"The world is topsy-turvy now. There's been an alien invasion, and things are crazy," Marvel Studios co-president Louis D'Esposito — who also directed the film — tells EW. "So when this gun ­literally fell into their lap, this is a sign: We're going to rob a few banks, we're going to buy a boat, we're going to the Caribbean, and all our problems will be solved."
If "Item 47," which will be shown during Comic-Con next week, is deemed a success, it could mean some very exciting things in the future of Marvel short films. D'Esposito teased that the company plans to include a short with every future Marvel home video release, and that some of them could feature a few of the 8,000 Marvel characters who aren't quite ready to have their own feature film. Of course, that has its drawbacks too.
"Let's say we wanted to introduce Ant-Man [in a short], and that would mean we have to cast him prior to having a filmmaker. That's difficult and something we wouldn't want to do," D'Esposito said.
For now, we're just excited about "Item 47," which will likely hit the web before its September 25 release date. We'll let Marvel iron out all the kinks in the meantime.
Are you looking forward to a "phase two" of Marvel short films? Tell us in the comments section below or on Facebook and Twitter.