Marvel's "Item 47" short debuts two new clips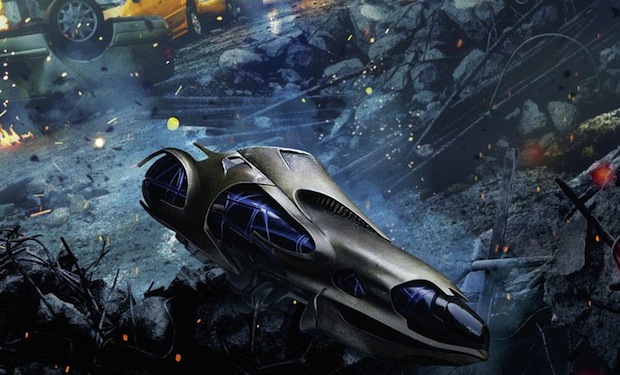 Posted by Terri Schwartz on
We might have to wait another year until "Iron Man 3" hits theaters, but we'll get a look into the Marvel cinematic universe before then. The studio is releasing a new one shot called "Item 47," which was screened for the first time at Comic-Con, in the "Marvel Cinematic Universe: Phase 1" boxed set. Marvel has unveiled two clips from the 12-minute short film, and both give us a better idea of what we can expect from its follow-up story to "The Avengers."
But first, a bit of background. "Item 47" stars Lizzy Caplan and Jesse Bradford, both newcomers to the Marvel universe. They are two normal people who find a discarded weapon (the titular Item 47) from the Chitauri invasion that occurred in "The Avengers" and go off on a Bonnie and Clyde-style adventure while two S.H.I.E.L.D. agents (played by "The Avengers's" Maximiliano Hernandez and "Lost's" Titus Welliver) try to stop them. Caplan and Bradford's characters are appropriately named Benny and Claire.
The first clip comes courtesy of Entertainment Weekly, and introduces us to Benny and Claire's characters (EW clip not embeddable, click here to watch). It seems like their streak of bad behavior is more Claire's idea than her boyfriend's, but both are willing participants. Then there's io9's slightly older clip (seen below) that teases the S.H.I.E.L.D.'s agents' orders to return Item 47 to their headquarters.
Also new from Marvel is the box art for the "Marvel Cinematic Universe: Phase 1" boxed set. It's not just the brief case package that has us excited, but the badass sleeve art for each of the individual films. Oh how we have a soft spot in our heart for minimalistic movie art, so thank you Matthew Ferguson for making these.
Do you think "Item 47" is going to be a good addition to the Marvel cinematic universe? Tell us in the comments section below or on Facebook and Twitter.