Mark Duplass talks the impact of his films, trying new genres and "Game of Thrones"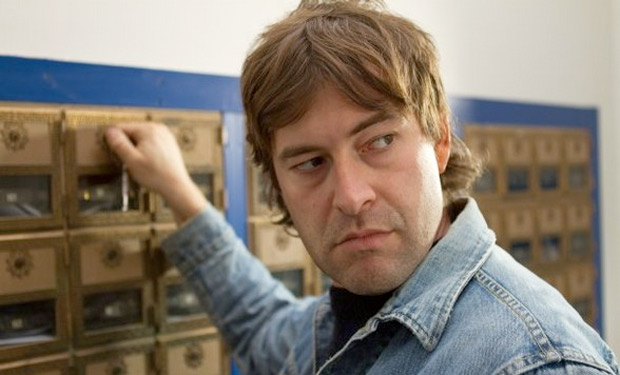 Posted by Terri Schwartz on
It's hard to think that the same man who co-wrote and directed "The Puffy Chair," "Baghead" and "Cyrus" is also the same guy who plays leading man Pete in FX's hit fantasy football comedy "The League." But upon first meeting at a "Jeff, Who Lives At Home" DVD/Blu-Ray release party in Santa Monica, it's clear to see where Mark Duplass's two worlds collide.
The world is Duplass's metaphorical oyster — or sandbox, as he later refers to it — but right now he and brother Jay are just doing what makes them happy. We chatted about the response to "Jeff," his work on "The League" and where he wants to go next with his filmmaking career over glasses of 23-year-old Pappy Van Winkle bourbon, admitting that we were both "punching above our weight" at this point in time.
IFC: It must be so rewarding for you to see how well received "Jeff, Who Lives At Home" has been.
MARK DUPLASS: My whole career has sort of felt like that. Jay and I were these two kids who were making these movies about what we perceived as very small, personal things. I guess the way we describe it is we like to explore the epically small, and that hopefully in somebody's quest for wood glue, you can extrapolate some grander machinations of the universe and its inner workings. But I honestly never thought, genuinely, that we would get this far. That we would be able to make the movies that we like making, which are so small and personal, and have a company like Paramount not only put the film out but also give us free food and beer to talk about it, and $75 fucking whiskey, man. We're punching above our weight here.
IFC: "Jeff" is this intimate little story that has really reached a wide audience, but it doesn't sound like you planned for it to be something that could affect everyone.
MD: I discovered something in my 20s with Jay which was we spent quite a few years making really shitty movies that no one will ever see, thank god, and they were very derivative of other people. We tried to be the Coen brothers and you're not going to be the Coen brothers without being the Coen brothers. And one day we made this little short film completely by accident that was improvised, shot with out parents' video camera with terrible lighting and terrible sound, but it was about something that we experienced that we thought was sad and funny, which was why do we have an emotional breakdown every time we try to record the out-going greeting of our answering machine. Why is it that you have to keep rerecording it to present yourself so directly to the world? So we shot a 20 minute take about someone trying to perfect their personal greeting of their answering machine and cut it down to 8 minutes and that was our first movie that got into Sundance. And from that moment, we've never really strayed from this belief that like, if it's funny and sweet and sad to us, we just need to take that and present it to the world through our eyes, and hopefully they'll find something in it too.
So while a stoner living in his basement who's obsessed with the movie "Signs" isn't someone that people can immediately connect with, the core of him as this guy who wants more for his life and believes that there's something great out there for him, I guess there's a sweetness and a comedy to that that I think, I guess I've learned, do connect broader than just the specificity of his character.
IFC: You managed to bring these great performances out of Ed Helms and Jason Segel that no one has really seen before. Do you find that more actors are coming to you now and saying that they want to work with you?
MD: We are now in that position, which is huge. To speak to the business end of that, the fact that name actors want to work with us means that like, if there's any tenure to be had in this business, that's our tenure is that we make movies cheaply and, luckily enough, movie stars want to work with us, so we are able to play in our little corner of the sandbox and do what do, and I'm just hopeful we can keep making them.
IFC: Would you ever want to explore any more of that metaphorical sandbox?
MD: We like to expand our movies a little bit every time we do one so we're not just repeating ourselves. In a lot of ways, "Jeff" was kind of an adventure quest movie. If we made a movie like "Battleship," it would be about all the guys on the ship and maybe some homoerotic behavior and people getting their feelings hurt. That's what that movie would be. I want to see Spider-Man stub his toe and get sad. That would be my thing. So I don't know, we are interested in genre films and, as long as there's a way to tell a really personal small story in there, I think that's what we would be good at. I do believe we would be terrible at directing a Marvel film. We would just make a shitty movie, so I'm not going to do that any time soon.
IFC: What sort of genres would you want to try?
MD: If you look at our movies at the DNA, they are all relationship movies, and they're all personal, but "The Puffy Chair" follows the form of a road movie, and "Baghead" follows the form of a horror film, and"'The Do-Deca-Pentathalon" coming up is a sports movie, and this is kind of a quest movie, and "Cyrus" is a love triangle film. But they're all very odd versions of that genre. So I am actually interested in making a science fiction movie in space that is a little more relationship oriented. I mean, that's fascinating to me. To a certain degree, I think "Eternal Sunshine" did that a little bit with like taking this science fiction genre and making a more personal take on it. So it's hard to predict where we're going to go, but we're definitely interested in branching out so we're not just repeating ourselves.
IFC: Jay teased earlier that you guys have some other projects coming up. Can you talk a little bit about any of those?
MD: There's a couple of things going on. I have my acting career and I have a lot of things I'm doing with that. We're writing a bunch of things. Some of them are personal projects that we'll direct, some of them are studio projects. And we are kind of tossing around this idea of kind of getting involved in television. So we've got a bunch of little irons in the fire.
IFC: And "The League" has really found such an audience.
MD: "The League's" fun. It has a very rabid little fanbase. It's cool.
IFC: Has working on that show changed your perception of the television industry at all?
MD: I never thought I could do TV because I'm a filmmaker. I was like, I can't go beyond the office because I can't be gone nine months of the year. But "The League" is a three month commitment, so cable TV as a shorter commitment really works.
IFC: So what you're telling me is you want to direct the next "Game of Thrones" episode.
MD: Fuck yeah, man. Just get weird up in there. Just super weird.
IFC: It would be like that Rian Johnson episode of "Breaking Bad."
MD: I love Rian. I love Rian so much. It's a weird meeting of worlds.
IFC: [Jay and Judy Greer] were joking early that you guys should direct a live action "Archer" episode.
MD: That would be [awesome]. I fucking love "Archer," man. I love me some Judes.
"Jeff, Who Lives At Home" comes out on DVD on June 19.
Would you like to see the Duplass brothers expand into different genres? Tell us in the comments section below or on Facebook and Twitter.