Lady Gaga joins "Machete Kills," character poster debuts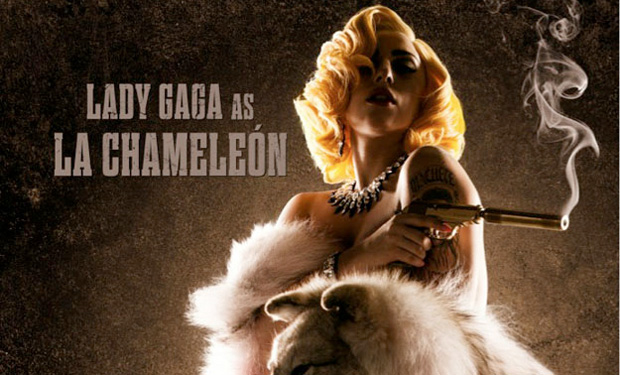 Posted by Vincent Genovese on
"Machete Kills" has added another surprising star to its already eclectic cast: Lady Gaga.
Director Robert Rodriguez announced on Twitter today that the "Born This Way" singer will have a role in his "Machete" sequel. "I just finished working with @LadyGaga on @MacheteKills," he tweeted. "She kicked SO MUCH ASS! Holy Smokes. Blown away!" Making her acting debut, Gaga will join co-stars Charlie Sheen and Mel Gibson in what's sure to be an interesting film.
The director also revealed a poster for Lady Gaga's character, La Chameleón. Check it out below.
"Machete Kills" is a follow up to Rodriguez's 2010 exploitation film "Machete." In this installment, the U.S. government recruits Machete (Danny Trejo) to stop an arms dealer (Mel Gibson) from launching a deadly weapon. As of now, we can only speculate on how Gaga's character will fit into the film's plot. However, based on the poster and Rodriguez's tweet, we can assume that Machete won't be the only one who kills.
"Machete Kills" also stars Michelle Rodriguez, Demian Bichir, Amber Heard, Sofia Vergara and Zoe Saldana. There is no set release date at this time.
Are you excited to see Lady Gaga in "Machete Kills"? Tell us in the comments section below or on Facebook and Twitter.