"Life of Pi" trailer debuts, looks gorgeous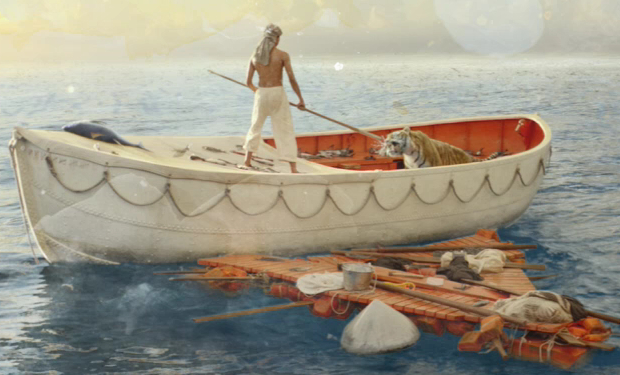 Posted by Terri Schwartz on
Ang Lee has surpassed himself in the first theatrical trailer for "Life of Pi."
The director is known for creating stylized, introspective movies like "Crouching Tiger, Hidden Dragon," "Hulk" and "Brokeback Mountain," but it seems like he's done his best work yet in his forthcoming adaptation of Yann Martel's best-selling novel. The first footage from the movie debuted a little more than a month ago, and this trailer has made good on the promise that the short snippet from the film made.
Though this trailer is only shown in 2D, the visual effects make it very clear how Lee planned to make the movie work in three dimensions. This is the director's first venture into 3D filmmaking, but he certainly understands the style that makes it look best. Some of the imagery in this trailer hearkens back to what directors like Tarsem Singh did in "The Fall," which is very exciting.
It's nice to see that the adaptation has been made stylistically and without a heavy hand, even though the trailer spends much of its time focused on the shipwreck instead of Pi being stranded with his animal companions. We also get some teases of what takes place beyond "Life of Pi's" ocean setting, which gives us a good sense of how the rest of the movie will work as well. Though all the CGI effects don't look completed yet, what is done does look gorgeous.
"Life of Pi" tells the story of an Indian boy named Pi who finds himself stranded on a boat after a shipwreck with no one but a tiger, a hyena, an injured zebra and an orangutan to keep him company. The film is due in theaters on November 21.
Are you as impressed by this trailer as we are? Tell us in the comments section below or on Facebook and Twitter.