Tim Grierson on the Devilishly Dark Thriller "Killer Joe"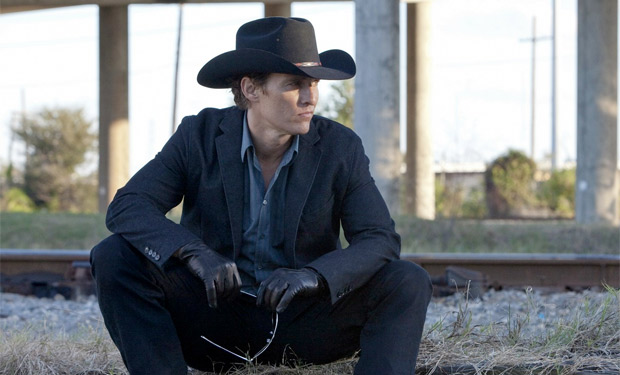 Posted by Tim Grierson on
We're all suckers for redemption stories. When celebrities have a fall from grace, part of us wants to see them pick themselves up, apologize for their indiscretions, and emerge a wiser, smarter, better person. Likewise, plenty of fiction revolves around characters who start off as bad people but eventually see the error of their ways. ("A Christmas Carol" wouldn't be an enduring holiday classic if Scrooge ended up as rotten as he started out.) But sometimes, fiction offers us people who don't want redemption — they're quite content being miserable wretches. Their lives may not be inspirational, but they can be lowdown dirty fun.
"Killer Joe," which opens on Friday, is filled with such horrible characters. The movie is a giddy rush of bad behavior that allows us to live vicariously through these horrible human beings. You wouldn't want to be these people, and you definitely wouldn't endorse anything they do. But for a couple hours, it's a pleasure to be in their nasty company.
The movie is based on the play of the same name by Tracy Letts, who won a Pulitzer for another work, "August: Osage County." "Killer Joe" is set on the outskirts of Dallas where apparently only the thoughtless, the classless, and the desperate reside. We meet Chris (Emile Hirsch), a directionless young man who needs money quickly to pay off debts to some violent underworld figures. But he has a plan: His mother, whom he despises, has a sizable life insurance policy that will go to his underage sister Dottie (Juno Temple) in the case of her death. So he teams up with his father Ansel (Thomas Haden Church), who's now married to trailer-trash Sharla (Gina Gershon), to hire a disreputable cop named Joe Cooper (Matthew McConaughey) to kill the mother.
If that setup sounds reminiscent of a Quentin Tarantino film — not to mention a dozen heist-gone-wrong pictures — you're in the right ballpark for where "Killer Joe" goes. But the film, directed by William Friedkin, is less about its twists than it is about reveling in the remorselessness of its characters. And revel it does: The film is rated NC-17 for its violence and sexual content, and there's a dark, kinky edge to the proceedings almost from the beginning. Perhaps even more shocking, though, is how funny "Killer Joe" is. Friedkin and his great cast have conspired to create a world in which we chuckle at the characters' wickedness while being hypnotized and horrified by their more demented behavior. If I'm being intentionally vague, it's because the shocks in "Killer Joe" are best experienced without any advanced knowledge, but know that while this movie can be viciously depraved, the amoral activities you'll witness spring rather frighteningly organically from the characters. Although "Killer Joe" can be a touch jokey from time to time, on the whole it's a perversely intoxicating character-driven thriller in which the threat of something horrible happening forever lingers in the air.
Because the film's tone is such a tricky one, the performances are crucial to maintaining the spell. Happily, none of the actors puts a foot wrong. This isn't always easy when you're playing people who are, for the most part, stupid — it can be difficult not to make them come across as unrealistic or caricatures. But the cast of "Killer Joe" gives their characters a weird kind of integrity — they may be despicable fools, but they're very clear about who they are. You'll end up laughing at these people a lot, but you also never feel like you can completely trust them, which gives the movie a worrisome edginess that makes it hard to ever fully relax during "Killer Joe."
The film's livewire nastiness is embodied by Joe Cooper, brilliantly played by McConaughey. I've mentioned before what a roll the actor has been on lately, and his performance in "Killer Joe" is particularly striking for what risks it takes. Long known as the star of disposable romantic comedies, McConaughey has tried to change his image with strong turns in "The Lincoln Lawyer" and "Magic Mike," but neither of those roles required the bravery that Joe Cooper does. When we first meet Joe, he immediately establishes himself as the smartest, most cold-blooded individual in the room. But as "Killer Joe" rolls along, his sinister agenda starts to assert itself, particularly when he eyes young, alluring little Dottie. It's not unusual for a likeable star to take on a despicable character, but Joe is a particularly sick monster — if McConaughey's performance hadn't worked, it could have been an embarrassment for him and a disaster for the film. But McConaughey is disturbingly confident as this psychopath, maybe in part because Joe doesn't see himself that way — like everybody in "Killer Joe," he just does what he does. These people don't believe in redemption — they don't believe in much of anything. This movie may offend you, but it also may leave you feeling grateful. We all have our darker sides, but none of us are as bad as these inglorious bastards.