"Dark City" helmer Alex Proyas to adapt Mike Mignola's "Joe Golem and the Drowning City"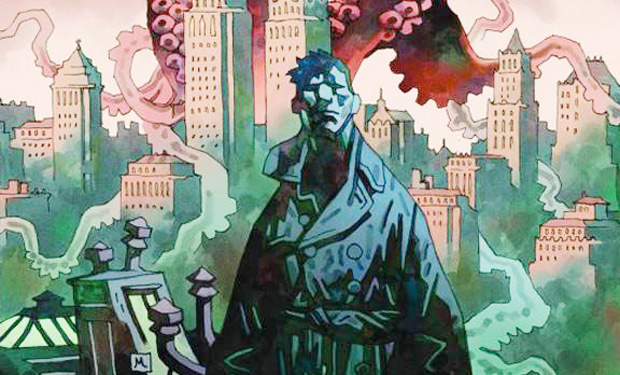 Posted by Brian Jacks on
Comic book movie-related news out of Comic-Con continues to arrive fast and furious this week, with reports now that "Hellboy" creator Mike Mignola and Christopher Golden's "Joe Golem and the Drowning City" has been tapped by director Alex Proyas for a live-action feature.
Deadline reports the graphic novel will receive the Hollywood treatment courtesy of the visionary filmmaker, celebrated by genre fans for such films as "Dark City" and "I, Robot." The project would mark the second comic book adaptation for Proyas, after 1994's gothic tale "The Crow."
"Joe Golem and the Drowning City" takes place in an steampunk-ish alternate history where New York City sank into the ocean in the mid-1920s. Since then, it's been transformed into a Venice-like metropolis of canals. The book follows a young teenage girl named Molly McHugh and her companion Felix Orlov, a magician-turned-psychic who is abducted by masked men when a seance goes wrong. She then meets a mysterious man and his sidekick Joe Golem, a creature brought to life to battle witches.
In Judaism, the monster-esque golem is comprised of mud and was traditionally created to help fight persecution of the Jews. The word is mentioned in the Talmud and has been referenced during biblical times as well as throughout medieval history.
The project is the second property from Mignola to see its way to theaters. The first, "Hellboy," spawned two feature films directed by Guillermo del Toro.
Are you interested ot see Proyas' take on "Joe Golem and the Drowning City"? Let us know in the comments below, or on Facebook or Twitter.