Take an inside look at the stars of Bullet in the Face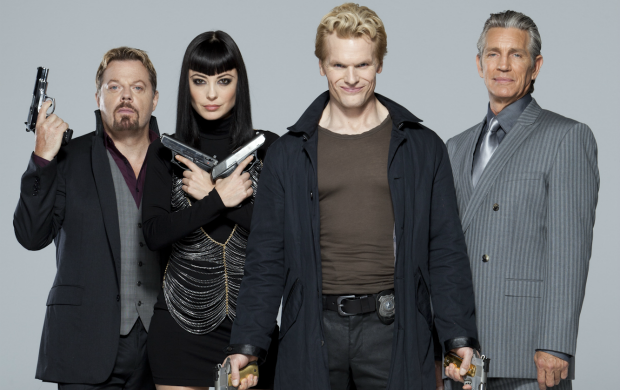 Posted by Melissa Locker on
This August, Bullet in the Face is coming to IFC. The story is this: Following a botched jewel heist, sociopath criminal Gunter Vogler awakens in a hospital, surrounded by cops, his head wrapped in bandages. When the bandages come off Gunter's new face is revealed and police force him to work undercover to take down the city's crime lords. It's a job that no one wants, but Gunter is uniquely able to handle. Almost.
Created and executive produced by Alan Spencer (Sledge Hammer!), the cast includes Max Williams as Gunter Vogler, Neil Napier as Lieutenant Karl Hagerman, Jessica Steen as Commissioner Eva Braden, and Kate Kelton as Martine Mahler. But alongside the cast are two incredible guest stars Eddie Izzard (Valkyrie, Ocean's Thirteen) and Eric Roberts (The Dark Knight, The Expendables) as notorious crime lords. Izzard and Roberts lend their incomparable skills to help make Bullet in the Face a darkly comic tour de force.
In this video we take you for an inside look at the cast of Bullet in the Face. Watch and then be sure to tune in August 16th and 17th at 10/9c for the one and only Bullet in the Face:
video player loading
.
.
.
Want the latest news from IFC? Like us on Facebook and follow us on Twitter@ifctv.
Bullet in the Face is coming to IFC on August 16th and 17th at 10/9c