"Indiana Jones" brings Blu-ray release to Comic-Con…with snakes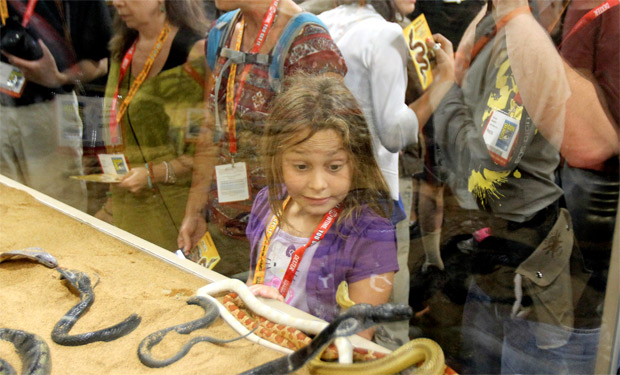 Posted by Brian Jacks on
Last month we told you that all four "Indiana Jones" films were coming to Blu-ray in a tidy little package called "The Complete Adventures." Knowing their fanbase, Paramount decided to take the promotion to the shiny, stuffy halls of San Diego Comic-Con, where they set up a booth with a special twist…literally.
With an eye towards Indiana's greatest fear, Paramount trotted out a glass case filled with sand and plenty of snakes. The display allows attendees to snap their photo with the slithery background, mirroring the iconic snake pit scene from "Raiders of the Lost Ark," which was filmed with a glass partition between Harrison Ford and dozens of serpents.
Check out some photos from the event below. "Indiana Jones: The Complete Adventures" hits store shelves on September 18.