Hugo Weaving talks the Wachowskis' "Cloud Atlas" and working on "Jupiter Ascending"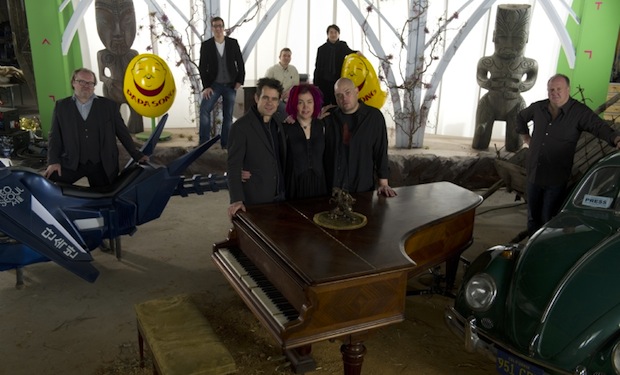 Posted by Terri Schwartz on
Ever since the Wachowskis burst onto the Hollywood scene with 1999's "The Matrix," Hugo Weaving has been forever connected with the forward-thinking sci-fi siblings. The trio worked together on the Wachowskis' upcoming "Cloud Atlas" (which was also co-directed by Tom Tywker), making it their fifth film collaboration including "V for Vendetta." This movie promises to be their craziest project together yet.
"Cloud Atlas" looks to be as unique a project as "The Matrix" was, combining six separate storylines and having the movie's various big name stars play different roles in each one. Each of the storylines takes place in its own timeline, its own geography and with its own plotline, and similarly the various characters are different sexes, races and ages and all have different personal interests. One of Weaving's characters is "a type of woman" who is a nurse. But he promised that each of his characters is thematically linked to the others.
"All six of them have a similar sort of tone, I suppose. Most of them seem to be, in some way, [obsessed] with self-control or repression or status quo or power, and so there's a link with all those characters," he told IFC while promoting his upcoming movie "Last Ride." "Initially, at the beginning of the shoot, jumping from one character to another, you felt the difference between the characters. As the shoot wore on, increasingly you're seeing an arc for those six characters, like a six-faced character if you like."
Even though the movie comes out in a little under four months, we have yet to see a trailer for it. With the exception of a few stills and some concept art, we really don't have any idea how the film will look at all. And fans of the book shouldn't think they have any better idea than the rest of us. "Cloud Atlas" is based on the David Mitchell novel of the same name, but Weaving said that the movie will work in a different way.
"The story's told like a mosaic. In the book, you're getting half of each story and then the second half of each story, and the film's not told in that way, so the certain characters you play towards the pointy end of the film start to fulfill the same function. That was a really fascinating adventure for everyone working on that," he said. "And as the film progresses and the script progresses, you get a sense of those actors and those characters coming together and fulfilling a similar function or a similar role if you like in the story."
Weaving will finally see the fully cut film during a screening next month, and for now he said he's "just as intrigued as anyone, really." He said all the actors were more excited and "discombobulated" than he'd ever seen people be while preparing for a movie he's worked on, and is excited to see how everything fits together in the finished product. He promised that some of the cast of the movie — which includes Tom Hanks, Halle Berry, Hugh Grant, Susan Sarandon, Jim Sturgess and Jim Broadbent — were nearly unrecognizable as some of their characters.
"I remember there was one day with Tom Hanks, we were working on a shoot in Saxony, we were working in an amazing forest, and it was my first day on set with Tom," Weaving recalled. "We were having a chat and we'd been working for about three hours and he suddenly realized that one of the other characters in the scene he'd been working with in New York for two weeks prior to that, and he didn't recognize him. It was really different make-up. That's what it was like."
Considering the great relationship Weaving has with the Wachowskis, it's not much of a stretch to assume that he might have a role to play in their next project, the sci-fi flick "Jupiter Ascending." That movie currently only has Channing Tatum and Mila Kunis cast, but Weaving teased there might be a role for him too.
"We haven't actually talked about that one but there've been sort of muted hints and things about it, to be honest, so I'm not sure what's happening with that," he said. "I last talked to [the Wachowskis] while we were doing ADR for 'Cloud Atlas,' so it's just lovely to have a chat again, but I'm hoping to see them in a month and a half and there'll be a screening of 'Cloud Atlas' in Chicago, and I'm hoping to get over to that."
So keep an eye out, Wachowski fans, because we might end up hearing some new casting news in a month and a half.
Are you looking forward to "Cloud Atlas"? Would you like to see Hugo Weaving in "Jupiter Ascending"? Tell us in the comments section below or on Facebook and Twitter.