Hugo Weaving on "Transformers 4": "Leave that one up to if and when it happens"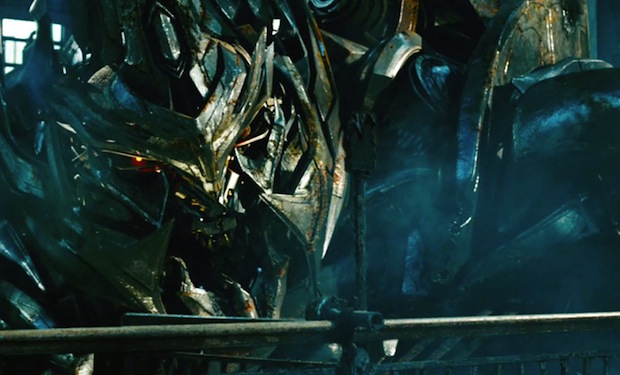 Posted by Terri Schwartz on
Even though "Transformers 4" will be Michael Bay's last "Transformers" film, it's not going to have much to do with the three movie that came before it. The original cast of the series aren't returning and even leading man Shia LaBeouf says he's done for good. Bay has come out and said that the focus of "Transformers 4" will be on its titular robots in disguise instead of their human allies, so the real question is which of the voice talents in the first three movies will be back for more.
IFC recently had the chance to speak with Hugo Weaving while he was promoting his Australian indie "Last Ride," and we couldn't resist talking to him about the upcoming "Transformers" movie. Unlike in most of the other "Transformers" films, TV shows, games and theme park rides, Weaving voices evil Decepticon Megatron instead of Frank Welker. Since he is such a major character in the "Transformers" universe and likely will return in this new project, we asked Weaving whether he thinks he'll be back for more voice work. His disinterest in the film franchise genuinely surprised us.
"I only meet Michael when we're doing the voice work, so look, I just leave that one up to if and when it happens," he said. "That's the weirdest project for me because it's the thing I'm most distanced from in a way. That's the one that's more like a job for me, in a way. It's an odd one. Look, we'll just see what happens."
Considering the fact that Ehren Kruger is currently hard at work on a "Transformers 4" script, it's not much of a surprise that Weaving hasn't heard anything from Bay about working on the project. And even when he does, the role probably only requires a few days of voice work. But it's always been interesting that Bay chose Weaving over Welker for the part, and maybe there's a chance the voice work will go back to Welker in the future. If Weaving really doesn't care about it, he probably won't want to continue with the franchise once it is given to a new director for future films.
In a recent interview, Bay teased that "Transformers 4" could send the Autobots and Decepticons into outer space or, more specifically, to their home planet of Cybertron. He also acknowledged that he's going to try his best to make "Transformers 4" much better (and more cohesive) than "Transformers: Dark of the Moon" was.
"It's not a reboot," Bay said of the new movie. "That's maybe the wrong word. I don't want to say 'reboot' because then people will think we're doing a 'Spider-Man' and starting from the beginning. We're not. We're taking the story that you've seen — the story we've told in three movies already — and we're taking it in a new direction. But we're leaving those three as the history. It all still counts… We're moving on to something different."
Is it important to you that Weaving come back and voice Megatron? Tell us in the comments section below or on Facebook and Twitter.