Hugo Weaving is "very passionate" about "Last Ride"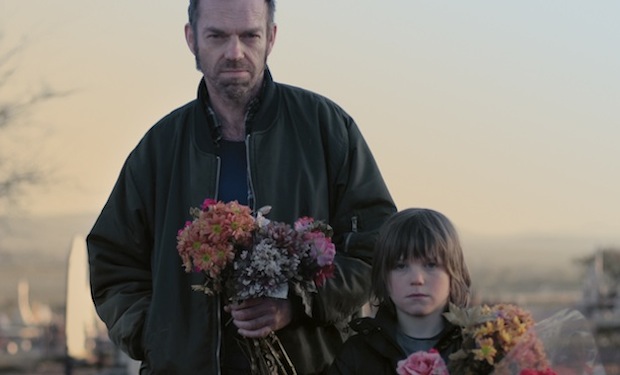 Posted by Terri Schwartz on
It's been three years in the making, but Hugo Weaving's 2009 Australian indie "Last Ride" has finally made its way to American shores.
Even though he's made many movies since like "Cloud Atlas," both parts of "The Hobbit" and "The Wolfman," it's clear that "Last Ride" is a project that stuck close to Weaving's heart. He easily could have passed up the opportunity to talk about the project with journalists when he learned that Music Box Films would be distributing it in the US, but instead he opted to conduct phone interviews from his home with an array of outlets including IFC in order to promote interest in the small project.
"I'm very pleased to be talking about it," he said. "It's great that it's getting a release in the States. There aren't many films that you do that you feel very passionate about and strongly about, but this is certainly one of them, so it's nice to know that it's getting a release even if it's two and a half, three years later than it was here."
"Last Ride" follows Weaving as the fugitive father Kev who goes on the run with his 10-year-old son Chook (played by Tom Russell) after committing a terrible crime. Instead of focusing on the chase, "Last Ride" tells its story through the eyes of those being chased. Kev realizes the weight of what he's done wrong long before Chook even realizes they're being followed, and Chook's reaction to the realization of his father's crime forever changes both of their lives.
On US shores, Weaving is best known for his collaborations with the Wachowskis in projects like "The Matrix" and "V for Vendetta," and with Peter Jackson on his five "Lord of the Rings" films. Needless to say, his performance in "Last Ride" is a bit of a departure from all of those projects. But it's these little-known Australian movies that Weaving finds himself feeling the closest to.
"Most of the films I've done have been small, Australian films, a lot of which haven't seen too much light of day. A little bit here and there," he said. "But it's always very hard for Australian films, because of the nature of the world in which we live in, the dominance of the American film industry even you know as far away as Australia. It's quite hard for an Australian film to get much of a look even in Australia, let alone in the rest of the world."
Weaving gives a powerful performance in "Last Ride" and critics have responded to that, nominating him for awards from both the Australian Film Institute and Film Critics Circle of Australia. But it's Russell, his young costar, who really lays on the wow factor. "Last Ride" deals with seemingly every dark topic imaginable, from murder to child molestation to suicide, and Russell seemed to have taken it all in stride. It's all the more impressive knowing that it was the first feature film he starred in.
Russell was 10 at the time he filmed "Last Ride," and Weaving acknowledged that it was hard at times to shoot those scenes with someone who wasn't as seasoned an actor as he was.
"It was difficult in some ways. Difficult because he wasn't used to the film set, wasn't used to working," Weaving said. "But with Tom, he's so present and he's so there … And he's a delightful boy, a lot of fun, and just a kid, you know? Just a kid who you point the camera at him and whatever he's doing is interesting."
He continued, "But yeah, it did mean that there were some other scenes that were quite –particularly some intensely dramatic scenes — there were a couple where he was not in that mood to be intensely dramatic and you think well, he's a 10-year-old kid, and you've got to try to find that in him in another way. No, he's great. He's absolutely wonderful. It was a real treat to work with him."
"Last Ride" came out in New York and on VOD on June 29.
Are you interested in seeing more of Weaving's smaller films come to US shores? Tell us in the comments section below or on Facebook and Twitter.