Exclusive Premiere: Morning Parade "Born Alone"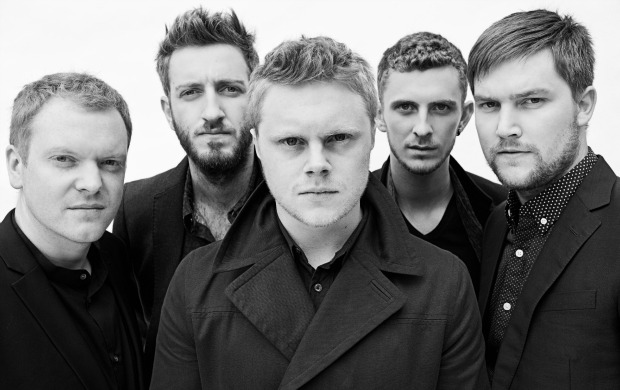 Posted by Melissa Locker on
There's little doubt that Morning Parade will be filling stadiums soon. While the British group is comprised of five good look men — Steve Sparrow (vocals/guitar); Chad Thomas (guitar); Ben Giddings (keyboards); Phil Titus (bass); Andy Hayes (drums)– they are anything but a boy band. Instead, Morning Parade manages to merge two of the hottest musical trends — 90s nostalgia and electronic dance music — into an alluring sound that is winning fans over around the globe.
The 11 songs on their self-titled album were crafted with the help of veteran producer David Kosten whose work with Bat for Lashes has earned him critical acclaim. Morning Parade credits Kosten with helping them hone their sound. Guitarist Chad explains: "David did us a favor by stripping the songs back until they were naked and then we built from there. We used to have lots of layers in the music and David made us choose which of five keyboard sounds we preferred for a song rather than putting them all on as we had before. At first, we'd wanted to recreate how we are live, with everyone jumping up and down. But the space on these recordings has opened up the songs more." Learning to let a song breathe is usually something that comes with maturity, but the album that hit stores on June 19th, was the band's debut.
That maturity is just par for the course for Morning Parade, though. The band has built their career out of avoiding hype and focusing on making the music they want to make the way they want to make it. Their album emphasizes their drive and ambition, delivering clean, foot-tapping songs sure to get fans fist-pumping along, which is exactly how we know they will be filling stadiums in no time at all.
Watch this exclusive premiere of Morning Parade "Born Alone":
video player loading
.
.
.
You can also download Morning Parade's song "Us and Ourselves" right here courtesy of Astralwerks. If you like what you hear, be sure to pick up Morning Parade's debut album here.
Want the latest news from IFC? Like us on Facebook and follow us on Twitter@ifctv.