Exclusive Premiere: Animal Kingdom "Skipping Disc"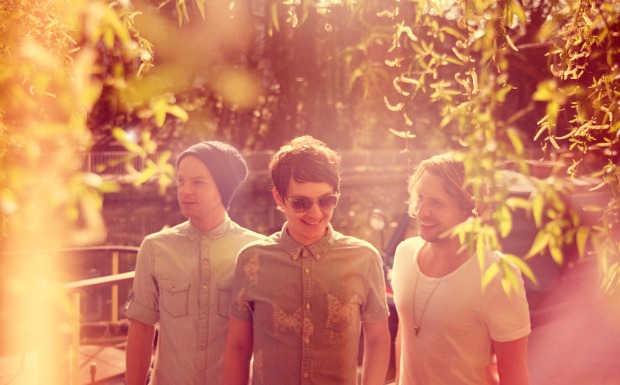 Posted by Melissa Locker on
Animal Kingdom's 2009 album, Signs and Wonders, was a stunning debut filled with atmospheric melodies, haunting lyrics and dream-like sonic sequences. The group — Richard Sauberlich (Vocals/Guitar/Piano), Hamish Crombie (Bass) and Geoff Lea (Drums) — recorded their album with producer Phil Ek, who worked with Fleet Foxes and The Shins, and you can hear his influence on the songs. Ek helped fill the British trio's album with a muted brilliance, orchestral arrangements, and dazzling tracks like "Chalk Stars," all of which helped the group earn the title of "Best New Alternative Act" according to iTunes, who knows a thing or two about these things.
Animal Kingdom's sophomore album "The Looking Away" is now available through iTunes and will be released physically on July 17. The album follows in the same dreamy vein as their debut, although this go-round they worked with producer David Kosten (Bat for Lashes, Everything Everything) who gives the group's sound a slightly more singular sound. The songs on the album are lush with choruses that get your heart racing. The album's first single "Strange Attractor" shows Animal Kingdom at their best with heart-wrenching pensive lyrics set to a blazing indie rock beat. It's the perfect juxtaposition of heart and head and a welcome addition to an iPod filled with soundalike indie tracks.
Their latest single "Skipping Disc" continues to showcase the band's skills as songsmiths. "It's my favorite song on the record," said Richard Sauberlich, Animal Kingdom's vocalist and guitarist. "Skipping Disc's a song about being trapped in a pattern, being stuck. Waking every day to the same loop – kind of like "Groundhog Day" – and being unable to get to where you want," according to Sauberlich. "I got the seed of the idea for the song from hearing that sound a computer makes when its about to die and the hard drive starts to skip, like a stuttering kind of noise – and then it kind of grew from there, and I began to collect other images to fit around the idea of repetition like 'the serpent eats it tail' line."
Here is our exclusive premiere of Animal Kingdom's "Skipping Disc":
video player loading
.
.
.
Animal Kingdom is hitting the road in the U.S. this summer:
JULY
24 – Philadelphia, PA – Johnny Brenda's
25 – New York, NY – Mercury Lounge
26 – Boston, MA – Brighton Music Hall
30 – Albany, NY – Jullian's
31 – Columbus, OH – The Basement
AUGUST
03 – Chicago, IL – Lollapalooza
04 – Minneapolis, MN – Triple Rock
05 – Omaha, NE – The Waiting Room
07 – Colorado Springs, CO – Black Sheep
08 – Denver, CO – Marquis Theatre
09 – Salt Lake City, UT – Kilby Court
11 – San Francisco, CA – Outsidelands Music and Arts Festival
12 – Santa Ana, CA – Constellation Room
14 – Los Angeles, CA – Troubadour
16 – San Diego, CA – Soda Bar
17 – Santa Barbara, CA – Soho Room
Want the latest news from IFC? Like us on Facebook and follow us on Twitter@ifctv.