[NSFW] Exclusive Premiere: Amanda Palmer & The Grand Theft Orchestra "Want It Back" [NSFW]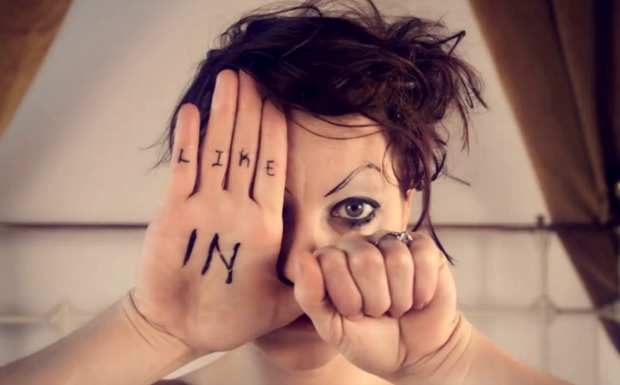 Posted by Melissa Locker on
When you're known around the world as Amanda Fucking Palmer, people don't expect you to play it safe. The former Dresden Doll has made a name for herself as an artist, performer, and musician based on taking risks. Whether it is writing a song about an Oasis fan's tragic tale on her album "Who Killed Amanda Palmer?" that got her banned from British television; or fondling a fake Katy Perry along with Margaret Cho for an anti-Proposition 8 sketch; or fundraising for an album on Kickstarter and breaking the million dollar mark; or even getting married to author Neil Gaiman via flash mob, Palmer knows how to make a memorable splash.
Because of her reputation for risk taking, when we found out her new video was considered NSFW, we weren't surprised. What we weren't expecting was to see a gorgeously animated video filled with text running up and down Palmer's naked body in a manner that renders the nudity far more artistic than suggestive. While many artists would be uncomfortable exposing themselves to fans, not Amanda Palmer. "I'm so comfortable being naked at this point that I almost forget..and in moments like when we made this video it's a great advantage to feel no sense of modesty whatsoever. You're just there, naked and working hard," she said about the video for her latest track, "Want It Back." "I'm also proud that the video has nudity but isn't really sexual or erotic – it's using the body as a raw canvas, which I love." The video's animation was a true labor of love. Palmer explained, "For three days straight it was just me, Jim [Batt, the director], the tattoo-grafitti artist Curran James, and a painstaking process as we created the video, shot by shot by shot. Building an animation like this is almost like building a massive, three story tower out of teeny Legos – you get to actually see your progress as you create, unlike most videos where you don't know what you're going to wind up with until you see an edit."
The song "Want it Back" was recorded with her band, The Grand Theft Orchestra, their album Theatre Is Evil is due out in September. Based on the songs we've heard, including this track, it seems that Palmer is using the million dollars she raised on kickstarter wisely. While the song is clearly influenced by pop music, producer John Congleton (St. Vincent, Modest Mouse, Xiu Xiu) has tempered the bubblegum with dark, edgy undertones. It's risky for an artist raised on the edges to dabble in a mainstream sound, but what else would you expect from Amanda Fucking Palmer?
Here's the NSFW video for "Want it Back" by Amanda Palmer & The Grand Theft Orchestra:
video player loading
.
.
.
Want the latest news from IFC? Like us on Facebook and follow us on Twitter@ifctv