BUNK Yourself and Win (More Than Just Internet Fame)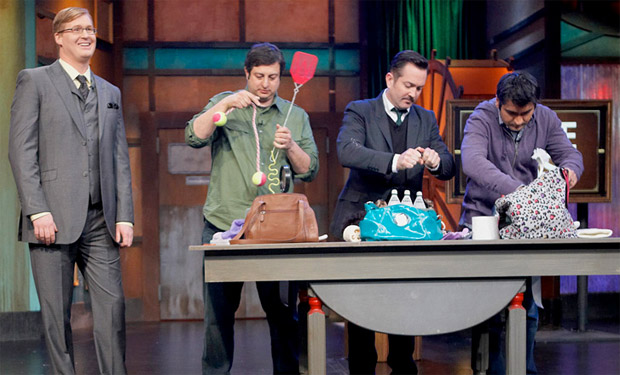 Posted by Brian Jacks on
Bunking Yourself is about to get even better. Starting tonight, Bunk Yourself players will be competing to win a $300 voucher towards a class at an improv school in their area. That's right, being funny on the internet can now earn you more than just retweets and the occasional follow from a spam bot. Specifically, it can help pay for your next improv/comedy class!
Here's how it works.
Watch BUNK on Fridays at 10:30/9:30c.

Keep an eye on your TV for cues for each play-at-home challenge (2 per show*).

Tweet your answers with the challenge hashtag to

@IFCBunk

.

Check the @IFCBunk feed on Monday morning for our winners' announcement.
Here's a list of the schools that are already on board to participate (with more to come!):
Second City – L.A./Chicago
Dirty South Comedy Theater – Carrboro, NC
Empire Comedy – Reno, NV
ComedySportz Indianapolis – Indianapolis, IN
Magnet Theater – New York, NY
UCB Theatre – New York, NY
Kick Comedy Theater – Kansas City, MO
American Comedy Institute – New York, NY
Unexpected Productions – Seattle, WA
Atlas Improv – Madison, WI
The Peoples Improv Theater – New York, NY
ColdTowne Theater – Austin, TX
Blacktop Comedy – Sacramento, CA
Live near a school that's not on the list? Send us a note at IFCBunk@gmail.com and we'll reach out to them.
Official rules: https://www.ifc.com/social-rules
*There will be one winner per Bunk challenge announced on Twitter. Entries will be accepted Friday nights between 10:30pm ET and 4:00am ET. Winners will be announced the following Monday morning.