"Breaking Bad" star Betsy Brandt says season five premiere will "shock you"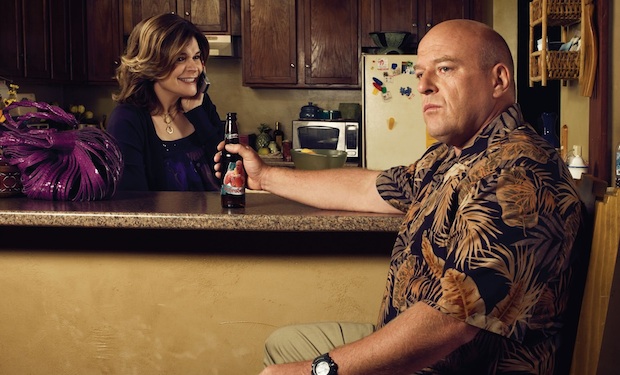 Posted by Terri Schwartz on
There are sixteen episodes of "Breaking Bad" left. Even though those are going to be split over two short seasons, the end is nigh. And with just about a week to go until the premiere, every fan of the show is dying to know what trouble Walter White will get himself into next.
According to Betsy Brandt, the woman behind Marie on the show, nothing we do can prepare ourselves for the new season. And even though we chatted for almost 10 minutes on the "Magic Mike" Los Angeles Film Festival red carpet, she managed to not give away a single spoiler. All she had to tell fans is they better get ready for some insanity over the next eight episodes.
"Even if I could tell you, I wouldn't even know where to start and really what to say. It's so… oh my god," she said. "They'll like shock you into [the new season]. Wait until you see the first episode."
"Breaking Bad" gets bigger with every year, and Brandt attributes much of that to its growing fan base. She said that she constantly meets new people that have just discovered the show, and feels that its popularity and prestige will continue to grow even after "Breaking Bad" goes off the air next year.
"I feel like it's going to be one of those shows like 'The Wire,' where years from now people will be like, 'I just discovered this show. Why was this show only on for like six seasons, and the last two seasons we're eight episodes!' I think it's going to be one of those shows. I'm so proud to be on it. And the people who love it. Like, I got ['Magic Mike'] because Stephen Soderbergh is a fan of 'Breaking Bad,'" she said. "I tell myself that no one really watches it because I just think it makes it [easier] through life."
Though AMC and creator Vince Gilligan decided there would be only sixteen more episodes, Brandt admitted that she hopes that "Breaking Bad" manages to squeeze out a seventeenth "because there's just so much to do." She isn't quite sure how the story will end since only the first half of those episodes have been filmed, so Brandt seems to think there's still hope.
Season four ended with a bang (literally), and Brandt felt that the series could have happily ended there. "I thought, good luck topping that!" she said of Gus Fring's death. But apparently the fifth season has already managed to do just that.
Marie is a character that we've seen grow a lot over "Breaking Bad's" four seasons, from being Hank's shrill, kleptomaniac wife to someone that is not only relatable but very sympathetic. But Brandt argued that it's not Marie or any of the show's characters that have changed, but rather the audience's perception of them.
"We know all of them, good and bad. That's the thing. Like who these people were, that's exactly who they were when we met them. Now we just get to see more of them," she said. "A big moment for Marie was the intervention scene and she's the only one who says, 'If he doesn't want to do chemo, it's his life. He gets to make that call. It's not our place to say.' And Skylar didn't like it and nobody liked it. She was the only one who stood up for Walt because it's what she believed was right."
Brandt continued, "She's still that person, four or five seasons later. She's still that same person, and I love her for that. She's a weirdo, and she's quirky and so there for her family and then just very self-centered, and hopefully a little funny."
Considering the fact that Marie was not a crucial character back in season one, Brandt is happy to see how much she has become a major part of the show.
"When you do a film or a play, you pretty much know what your role's going to be, but when you do a TV show, if you're lucky enough to be on a show that's a hit, you don't even know if you'll still be on it three seasons down the road. So the fact that Marie was not a pivotal role, they've just been so good to me," she said. "It will be tough for me, my next job. If my next gig is half as good as this show, I'll be happy lady. If I could only do Vince Gilligan shows, because he is the smartest and the nicest man in Hollywood, I'd be happy."
"Breaking Bad" returns to AMC on July 15 at 10/9c.
What are you hoping happens in the final two seasons of "Breaking Bad"? Do you think Brandt's analysis of the show is correct? Tell us in the comments section below or on Facebook and Twitter.