Shelf Life: Jane Fonda's "Barbarella"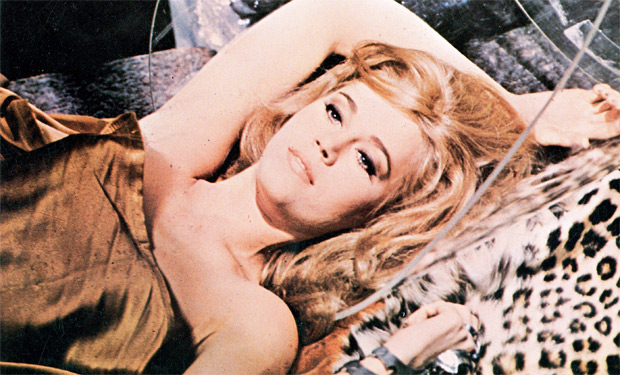 Posted by Brian Jacks on
One of the great things about revisiting movies that you love – or even if you don't – is seeing how your appreciation either converges or diverges from their technical merits. Moviewatching is a purely intuitive experience, no matter how much one knows about the technique required to actually create and assemble a film, and ultimately there are probably just as many expertly-constructed movies that are crap as there are clumsily-engineered ones that leave you devastated.
All of which brings me to "Barbarella." For myriad reasons, including Roger Vadim's legendary prowess with beautiful actresses, Jane Fonda's effortless combination of sensuality and naivete and just the idea of a goofy sexed-up sci-fi movie, it's always been one of my favorites. But is it well put-together? Perhaps not. But this week's "Shelf Life" intends to bridge that divide between well-made and enjoyable and figure out if one trumps the other.
---
The Facts
Released October 18, 1968, "Barbarella" was a decidedly mixed success. Although it maintains a 74 percent fresh rating on Rotten Tomatoes, the film earned a lot of pans from major publications such as Variety. Its grosses are unavailable but the film cost approximately $9 million, and ended up bringing in $5.5 million in rentals domestically. Although the film received few awards, Fonda was recognized with a nomination for Female Comedy Performance at the Laurel Awards.
---
What Still Works
It isn't meant as a backhanded compliment or a pass of any kind, but "Barbarella" is about the best kind of brainless fun you can have as a moviegoer. From its iconic opening credits sequence to its finale, the film is a visual marvel, even when the technology used to achieve those visuals occasionally lacks the kind of authenticity we associate with great special effects. Vadim's grasp on the material's tongue-in-cheek tone is effortless and yet assured, and he allows those set pieces and the sets themselves to have a kind of camp that winks at the audience and then dares them not to embrace it anyway.
As Barbarella, Fonda is absolutely magical. There's a perfect kind of innocence to her performance that makes the character never seem to be exploited or exploitable – she's nude, she finds herself in sexual misadventures, but she is less a victim than simply naively complicit in the fun. It certainly doesn't hurt that Fonda is fearless in her body and soul-baring, by which I mean she leaps with both feet into the role and never lets us know she's in on the joke – which makes it that much funnier. But there are few actresses today who could pull off that kind of pure sensuality and absolute obliviousness to precisely how alluring they are, and Fonda consequently becomes a sort of iconic performer for what she pulls off here.
As Dildano, David Hemmings is the film's MVP, mostly because he knows exactly how to play this campy material and just makes it work so beautifully. His "hand sex" scene with Barbarella is a comic marvel, augmented by some cinematic sleight of hand, but it's his sleepy-eyed consummation that makes it genuinely hilarious. Meanwhile, John Philip Law is perfectly humorless as the statuesque Pygar, and while his performance isn't "good" per se, he provides the right profile for his character and never lets up on trying to make him a pure and beautiful creature.
As indicated above, the sets and production design are all a little bit cheap, to say the least, and scarcely hold up today as solid examples of good special effects. But it's that cardboard flimsiness that also sort of sells the universe as a whole, because there are few flourishes that transcend the technical or conceptual complexity of the inflated plastic bags or conspicuous miniatures that make up the majority of the production design.
---
What Doesn't Work
Well, it's just not a well-made or well-told movie. The plot is flimsy to say the least, and even though the set pieces are rich in entertainment value, they hold together with a clothesline's sense of cohesion. As indicated above the special effects really skirt the line between cheap-charming and just cheap, and it's entirely reasonable to be too distracted by how bad they are to be able to enjoy the movie. (It doesn't help that so many of the designs are very indistinct, so there's not even a sort of conceptual appeal that maybe wasn't quite executed strongly.) Moreover, while Barbarella is an icon, she's not much of an agent of her own destiny, and she frequently makes clumsy mistakes or otherwise gets herself into trouble that someone else has to get her out of – unfortunately, usually a man.
---
The Verdict
Cheesy but charming, "Barbarella" holds up – albeit primarily if you already love the film and have enough of a sweet tooth to appreciate its empty calories. There's nothing especially unique or original here, but the characters are all fun and interesting, whether or not the film utilizes them well, and what happens manages to be mostly engaging if again it's not especially cohesive. Ultimately, Fonda's so great as Barbarella that most of those shortcomings become irrelevant. But it's certainly a film whose appeal is linked to a personal connection with the performers or the material rather than the way in which it's been executed. Regardless, however, the new Blu-ray looks absolutely gorgeous – Fonda's naughty bits have never been clearer – so love it or hate it, there's never been a better reason to watch it.