Leslye Headland talks "Bachelorette," this fall's sleeper hit comedy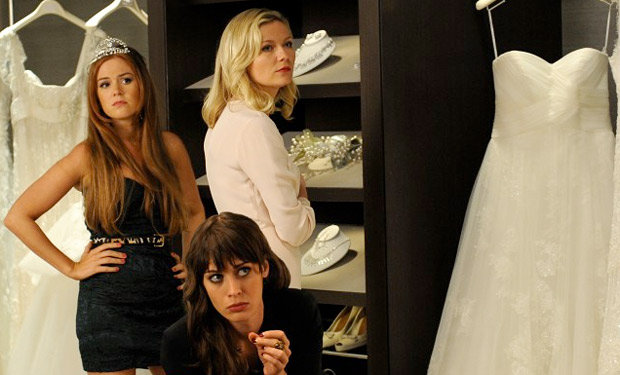 Posted by IFC on
IFC: I also wanted to ask you about "Bridesmaids," because I feel like it's going to come up again and again with this. Do you think it was a blessing or a curse that it came out before your movie?
HEADLAND: You know, I personally think it was a huge blessing, just because…and I've said this in interviews before but it's really the truth: my script made the black list in 2008, and that isn't to say, "I did it first," it's more like…nobody wanted to see my movie. Nobody had any interest in making my movie, and then when Liz Meriwether's movie got a greenlight, and when "Bridesmaid"made a lot of money, and when Lena Dunham got her television show — all of those things are really good things, because if you look back to anything before that, things that really didn't connect.
Like "The Sweetest Thing," which is a great movie, but didn't make a lot of money…or "The Comeback" with Lisa Kudrow, that was a groundbreaking show — now everybody's doing mockumentary, everybody's looking at the camera, but that character was an unlikable female lead, and nobody wanted to see that at the time. If you made "The Comeback" now, I think everyone would lose their fucking shit, you know what I mean?
So, in a way, it's hard, because of the title and because of the log line, so you do have to do some extra explaining to people. But I felt like, if we had changed the title, we would have been doing it out of a reaction to something that I actually think is a good thing. Why don't we just sort of embrace that this is something that people are excited about now instead of going, Oh no, we're different. Just let people decide for themselves. Some people will absolutely much prefer "Bridesmaids" to my movie, and that's fine! But I think what's important is that a lot of different female-centric stuff is getting out there, and so people can pick and choose and say "Oh I like this one, but I don't like that one." That's good! Deliberating taste between female-centric stuff: that's important.
IFC: Instead of just, I like it because it's a girl!
HEADLAND: Yes, yes! Like we all have to be friends with each other. I mean, no, you can absolutely hate it. That's fine.
For me, the benchmark was 1997 with "My Best Friend's Wedding": the last time that you saw a female lead being a complete asshole. That was revolutionary to me. What I love about that movie is when she's chasing Dermot Mulroney…he's chasing Cameron Diaz and she's chasing him, and she's on the phone with Rupert Everett and Rupert says, "Who's chasing you?" Do you know what I mean? What the movie points out is that all of her actions to prevent her from ending up alone make her alone.
It's the same as Kirsten's character. Everything she's done to make herself a beautiful and desirable person have made her into a horrific human being, and so she has basically twenty-four hours to do the right thing. And she does do it. She just doesn't have a moment where she explains why she's doing it, which has become such a thing in romantic comedies. Let me explain to you why I'm going to make the right choice now…
IFC: I feel like so many of the characters go through a redeeming quality at the end…except for Kirsten Dunst. You almost see glimpses of humanity in her but she's still a smart-ass to people.
HEADLAND: It's something that I've said a lot in interviews, too: You can't change in one night, but one night can change you. And sort of the idea that there would be this lead character that I couldn't quite bring myself to have completely soften, or completely change. I thought what would be interesting would be if her actions dictated that she was trying to do the right thing — that she would continue to be herself, but that her actions would actually be doing the right thing, which is to get this girl down the aisle.
I think any girl who's been a Maid of Honor understands you just have to get that bitch down the aisle. You're like, GO! IT DOESN'T MATTER WHAT HAS HAPPENED UP UNTIL THIS MOMENT! JUST GET OUT THERE! And there are those moments you just sort of sit there, and you're like, I don't know what I'm doing with my life.
If you talked to Kirsten about it, she would say, "I make a huge change." She's right. I think it just depends on how you look at it. That's what I think is cool about the movie. I like that it's divisive. I like that some people are like, "I loved it!" And some are like, "That was bullshit!" Great! Start the conversation.
IFC: The last question I have is about Lena Dunham and "Girls." For Lena to get all these accolades — what do you think Lena's arrival as this young, independent woman filmmaker means to Hollywood? Does it signal an arrival of anything?
HEADLAND: I'll put it this way: I actually just recently moved back to New York and I've been hanging out with girls who are probably in their early or mid-twenties, and talking to them about this other project that I'm developing. When they talk about that show, it's like they're talking about the Bible. It's incredible. Their eyes light up and they're like, "I love her. And I love that show. And it's the only reason I'm alive right now" — literally using that level of hyperbole about it, and it makes me so happy. Because if I had had a show like that when I was twenty-three, I wonder what my life would have been like.
You had no idea other people were feeling the same way. And that's why I think specifically her show is so important, because not only is she doing it all herself, and she's putting herself out there in a way that…first of all, I would never have the courage to do now, let alone when I was like 24. I was hiding in a closet, writing a veiled play about me and my fuck buddy, and I was like, maybe inviting him to come see it. That was the level of me exposing myself.
But the fact that she will put herself out there in a completely confessional way—and it doesn't necessarily mean that her stuff is autobiographical. It just means that it's so confessional, and it's so true, and you see it just like brightness in these young women's eyes when they see it.
Because I don't think it's promoting bad behavior. I think it's saying, "We know what's up. It's okay and you can still be a functioning adult: that can still happen. You can still make a television show some day if that's your deal. You can be all right." It's actually the women who are even younger that I worry more about. And I think that's why there was this tipping point through everything, not just with "Bridesmaids" and all of that, not just in the sense of, "Can women be funny?" but "Can women be truthful?" is now the next question.
Leigh Stein is the author of the novel The Fallback Plan, and a book of poems, Dispatch from the Future.