Leslye Headland talks "Bachelorette," this fall's sleeper hit comedy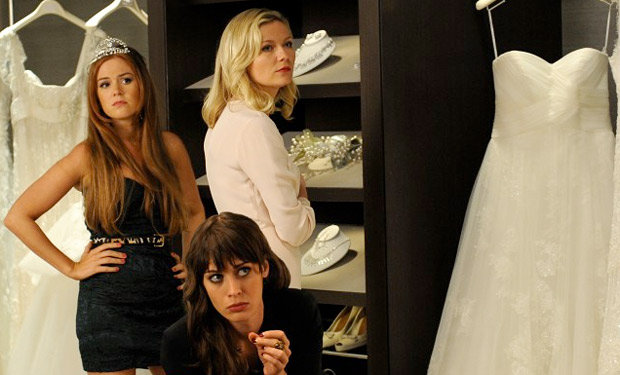 Posted by IFC on
By Leigh Stein
"Bachelorette," Leslye Headland's scathingly funny directorial debut, is likely to be the breakout hit this fall. Starring Kirsten Dunst as the alpha Maid of Honor from hell, the film follows three bridesmaids (played by Dunst, Lizzy Caplan, and Isla Fischer) on the eve of the wedding of their friend Becky (Rebel Wilson), along with groomsmen that include James Marsden and Adam Scott. But this isn't "Bridesmaids II." For one thing, there's a lot more coke. For another, there are no baked goods in sight. Headland's talent as a playwright (the film is based on her stage production of the same name) shines through in the wicked dialogue, and impeccable pacing of this dark comedy, in which these women destroy (and maybe repair) each other.
We sat down with Leslye at the Provincetown Film Festival, where "Bachelorette" was selected as the opening night film. She wants everyone to know how quiet and demure she was during this interview. It's not like she said "finger-banging" within the first two minutes or anything like that.
---
IFC: Was it awkward having your parents at the screening?
LESLYE HEADLAND: No, they loved it. They'd seen a very early version of the Sundance cut, and they've seen the play a bunch of times.
When they saw the first play I ever wrote, that was when they were like, "What's happening? Are you okay?" It was my lust play, so it was all about, you know, finger-banging. My poor father actually got out of his seat in the theater and stood in the back and was pacing.
So that was in 2005. That's when they got the bomb dropped on them. Now it's seven years later: they expect some terrible, scatological humor, and some sort of reference to some sex act and all of that… They're smart enough and hip enough to see that it's not all mean-spirited. They get that there's empathy for the characters, and it's not all terrible. It's just that…there's going to be some fucked-up shit happening.
IFC: Well, on the note of mean-spiritedness, the movie is about a commitment to marriage and how this is a big step…
HEADLAND: Yes!
IFC: But I was thinking: girls are committed to each other, and they're fucking bitches, but they're committed and they're loyal.
HEADLAND: Dude, I love that you brought that up. It's so funny that a lot of people don't in the interviews, and it's one of those things where it's like, "Am I the only person that notices this?" At least with my girlfriends, like my best friend in the world, Melissa, who actually plays the wasted stripper in the movie…we've known each other for eight years. I wrote the play on her couch when we were both living in the same studio apartment. And it is like a relationship. We have to sometimes remind each other of why we became friends in the first place, in the same way that you would with a couple. You have to go on dates, and just be like, "Remember when we were living together? And had no money?" We have to constantly go back to the origin story of our friendship because a lot of times, you can get really sick of somebody. You can be very hard on your friends in a way that you wouldn't be hard on your coworkers, or your family.
IFC: It's like, "You're my best friend. This is for life."
HEADLAND: This is it. This is happening now. And, not to spoil anything for anybody who hasn't seen the film, but that scene with Rebel and Kirsten towards the end, where you as the audience are finally let in as to why they're friends, and what connects them…I always thought of it as a love scene, like that moment in a marriage when it's like, "Remember when you swept me off my feet? And I fell in love with you?" It's like, "Remember when I covered for you and everyone made fun of me?"
IFC: Remember when we were puking in the bathroom together?
HEADLAND: Remember when we were puking in the bathroom together? God, that was my favorite part of life! (laughter)
IFC: One of the things I loved about the movie was the pacing of it. And the dialogue was so excellent, and I think that probably speaks to your talent as a playwright, because that's all you have: people talking.
HEADLAND: Yes. All you have is people talking, all you have is what the audience knows but the characters don't know. You have a lot of dramatic irony, a lot of they-saw-something-happen-that-the-other-character-didn't…maybe that's why I talk about sex so much because I'm like, "This is getting boring."
IFC: We need a blow job joke…
HEADLAND: We gotta bone it up with a blow job monologue…that's probably where it came from: being terrified that people are going to be bored. I used to say that, when I started to write theater and invite people to it, especially in L.A. People would be like, "I don't know if I really want to go see a play…" And I was like, "No no no, I write plays for people who hate plays." I'm terrified people are going to get bored. And it's the same thing with the movie; I think that's why it's so fast. And also, I'm obviously just a fast-talking, crazy person.