Ron Howard tweets "Arrested Development" season four script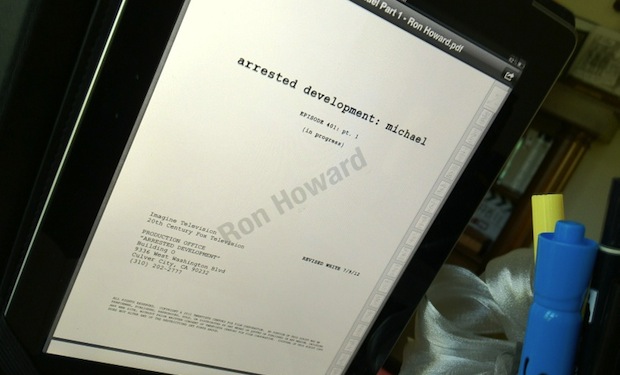 Posted by Terri Schwartz on
"Arrested Development" begins shooting in less than two weeks, and Ron Howard has the visual proof to confirm it.
Howard has acted as producer and voiced the "Narrator" character on "Arrested Development" since its inception, and he's been a big part of making the movie new season come together. He's also been a big part of teasing us with snippets of the production process on Twitter, which he did yesterday in a big way.
As you can see above, Howard tweeted the first page of the script for the premiere episode of season four, titled "Michael." "Very very funny. Lots of lines for the narrator too!" he wrote.
Initially the plan for the "Arrested Development" TV series was to have each of its 10 episodes deal with an individual character so that the audience would be caught up in time for an eventual movie to be made. Since the movie doesn't look like it will be happening (or at least not happening any time soon), creator Mitch Hurwitz said that the new season will be "more like the old show again." It looks like the final product has ended up being a cross between those two ideas.
We still don't have a release date set for the fourth season of the show, but we do know that it will be released all at once on Netflix at some point next year. We also know Bob Loblaw, Ann Veal and Barry Zuckerkorn are all slated to return. And based on what David Cross had to tell us, the entire cast is excited to reprise their roles.
"It's a character that I love and a great group of people that I look forward to working with again, and it's a Mitch Hurwitz script so it's going to be fucking meta, meta layers of hilarity," he said. "I can't say anything for obvious reasons and I won't say anything but they're all great. I'm really, really chomping at the bit to do this stuff."
What do you hope will happen in the upcoming season of "Arrested Development"? Tell us in the comments section below or on Facebook and Twitter.