"Arrested Development" starts filming in four weeks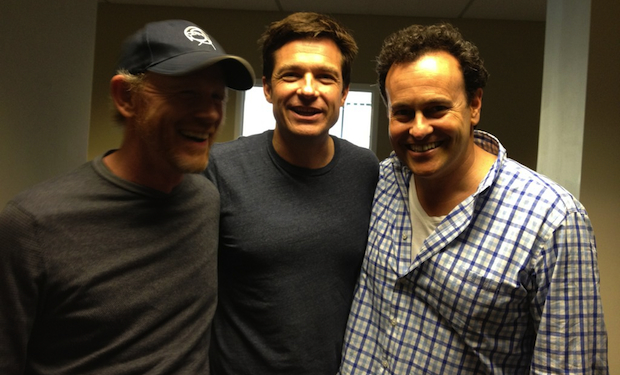 Posted by Terri Schwartz on
It's happening. It's really, really happening.
Okay, we'll admit, at this point the fact that 10 new episodes of "Arrested Development" are in the works isn't really news, but that hasn't meant we're quite used to the idea. That's why every time further proof comes out that the new TV series (and maybe movie) is actually happening is like a virtual pinch to keep us in check with reality.
With that being said, Jason Bateman just tweeted a big old pinch on the cheek. In addition to an awesome photo of him hanging out with Mitch Hurwitz and Ron Howard in "AD mission control," he also informed us that "Arrested Development" will begin shooting in a month.
"All systems are go. Filming for the new episodes starts in four weeks. Woo!" he tweeted.
Howard also offered a sneak peek into the writer's room that we've only seen teased before. Now who's going to blow up that image and try to parse out some of the plot points written along the walls?
"Arrested Development for Netflix. IT'S ALIVE," Howard tweeted. "This is what the writer's room looks like."
The plan is to have "Arrested Development" arrive on Netflix in one fell swoop at some point next year. Hopefully we'll start seeing some pictures in the next month or so from the set. If there's not at least one sighting of a man in a chicken costume, the "Arrested Development" team is doing it wrong.
Are you as stoked about this news as we are? Tell us in the comments section below or on Facebook and Twitter.