Arnold Schwarzenegger confirms "Twins" sequel, will re-team with director Ivan Reitman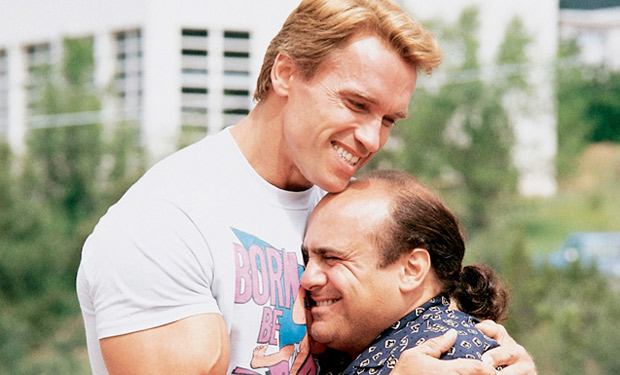 Posted by Brian Jacks on
At "The Expendables 2" panel yesterday at Comic-Con, erstwhile statesman Arnold Schwarzenegger confirmed what recent reports have suggested: that we are officially "on" for a sequel to the actor's 1988 buddy comedy "Twins" with Danny DeVito.
Deadline reports that Schwarzenegger also confirmed that original helmer Ivan Reitman will be returning, along with DeVito (natch). We're told the project is in development and the search is underway for a writer.
"Twins" brought together Schwarzenegger and DeVito as two unlikely long-lost brothers who wind up finding each other at Arnold's insistence. With DeVito's slimy character tied down in a world of crime, his new-found musclebound sibling must protect him as money and other familiar '80s tropes drop around them. The film was one of Schwarzenegger's biggest comedy hits, alongside other laughers like "Kindergarten Cop."
Still left unsaid is whether Eddie Murphy will be joining the project as well. Schwarzenegger had earlier professed interest in bringing aboard the "Beverly Hills Cop" star as a "triplet" to the pair. Arnold had offered such marketing taglines as "They found another one!", "Triplets!" and "Only their mother can tell them apart!." Time will tell on that one.
Would you check out a "Twins" sequel? Let us know in the comments below or on Facebook or Twitter.