Denis Leary on "The Amazing Spider-Man," comedy, and life after "Rescue Me"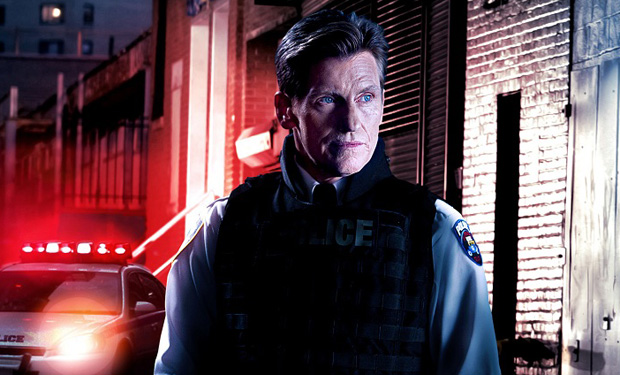 Posted by Rick Marshall on
"The Amazing Spider-Man" hit theaters recently, and the new film by "500 Days of Summer" director Marc Webb aimed to give the Marvel wall-crawler's movie franchise a fresh start with a modern origin story that puts the character's cinematic canon more in line with his comic-book roots. The new film also boasts an impressive cast led by Andrew Garfield ("The Social Network") as Peter Parker and Emma Stone ("The Help") as his first love, Gwen Stacy. They're joined by veteran comedian and actor Denis Leary, who plays tough-as-nails police captain George Stacy.
While there's been no small amount of debate over the last year regarding the "Amazing Spider-Man" cast and the direction Webb is taking the franchise, one piece of news that seemed to receive universal approval is Leary's casting. After seven seasons as the lead actor and head writer on "Rescue Me," the FX Network's critically praised drama about the lives of New York firefighters, Leary seemed like the perfect fit for the role of Captain Stacy — one of the major characters that shaped Spider-Man's early years.
IFC spoke with Leary during the press junket for "The Amazing Spider-Man," and got his take on the superhero movie experience, what type of scene he'll never let a stunt actor perform, and life after his intense, seven-year run on "Rescue Me."
IFC: First off, I'm curious how you ended up in the role of Captain Stacy. "The Amazing Spider-Man" isn't your usual sort of film, though the role certainly fits…
Denis Leary: Well, I talked to Marc [Webb] on the phone and even I said to him, "Why are you thinking of me for this?" I had just got done playing Tommy Gavin [on "Rescue Me"] for seven years, so I didn't see it, but Marc was very clear in what he wanted. So I just listened to him. His vision was very clear about what he saw for the movie. That was the anchor of the whole thing.
IFC: Among other things, I assume that all of the green-screen work involved in a film like this was probably an unusual experience for you. Did it feel like a very different type of film than what you're used to?
Leary: We actually didn't do much green-screen stuff. Marc was very adamant about doing as much in front of the camera as he could, as opposed to going CGI or green screen. So we sometimes had a large green-screen in the background on actual city street locations, and there were times when Rhys [Ifans] had a green sleeve on his arm, but even in some of the biggest actions sequences we did a lot in front of the camera. For instance, at the end of the movie with me and Rhys and Andrew [Garfield], we did a couple of weeks of really detailed work with all three of us, no stunt doubles. There was a lot of action right in front of the camera, and it never felt like the usual action movie. It wasn't the kind of action where it felt like a lot of small pieces cut together.
IFC: What I liked about your role is that you get to have some heroic moments of your own — that Spider-Man doesn't get to have all the fun. You get to take on a supervillain with your shotgun and kick some ass. Do you enjoy moments like those in projects?
Leary: Yeah, there was a sequence in "Rescue Me" where Tommy shoots up a bar owned by the guys he works with, and the scene involved a rifle. Peter Tolan directed it and he shot it like an old Western in terms of the action, and I remember Marc making a reference to that. So I said, "Listen — I want to shoot the gun. When we get to that part of the movie, I don't want any stunt-double stuff there. I want to shoot that shotgun." I love stuff like that. I'm a big Western fan and a big action-movie fan, so that's all me. Even when the camera is on my back and it could be the stunt double, it's me shooting that shotgun. I did as much of that scene as i could.
IFC: Working on a television series, I'm sure you have to keep certain things secret, but nothing compares to a big comic-book movie like this when it comes to everyone trying to get early peeks and spoilers and stuff like that. What was it like to work under conditions like that?
Leary: Yeah, I'm used to having to protect information in television with cliffhangers and finales and all that stuff, but it's not the same thing as a franchise thing like this. They're interested from the beginning, and there are paparazzi taking photos of everyone to see what they look like in character and everything like that. People are going online and talking about the way people look. To Marc's credit, he was like, "I can only listen to a certain amount of that and then I have to go back into this world and shoot."
IFC: Did you find yourself following along with any of the buzz?
Leary: No, I'd just get to the set and Avi [Arad] would say, "They're concerned about…" this or that. Fortunately for me, every time there was anything mentioned about Captain Stacy, it was like, "They think Captain Stacy looks pretty cool." I was like, "Of course they do. It's me." [Laughs] But I understand it, though. If we were doing Batman, they have the right to be concerned about the suit.
IFC: Over the last few years, we haven't seen you in too many movies — but we've heard your voice quite a bit. Is all the voice-acting work a product of your busy television schedule, or is it something you're gravitating toward for other reasons?
Leary: It's because I've had no time. When I do something, I'm 100% in, so even when someone would offer me a role that could shoot on the weekends, I'd be like, "That's going to kill me, and it will kill your production, and everybody would hate me on 'Rescue Me' and everyone would hate me on your movie." I had about two months off every year during "Rescue Me," and that was my downtime. I was working 90-hour weeks.
IFC: Given that sort of schedule, is doing a movie like "The Amazing Spider-Man" like a vacation for you?
Leary: Yeah, definitely. We shot ["The Amazing Spider-Man"] for a long time and people were complaining, but I was like, "It's easy for me, man. I don't have to do any of the writing. When I go home at night, I watch 'SportsCenter' and go to bed." I didn't have to rewrite scenes or anything, so it was great.
IFC: Beyond the work schedule, it must have been refreshing to be in something with a lighter tone than "Rescue Me," given how tense and dramatic the show was…
Leary: I'm sure even now there are people who worked on "Rescue Me" who talk about what a nasty mood I was in for seven years. And I'm like, "Listen, my character was in a nasty mood for seven years." Sure, on certain days he was in a great mood, but it's hard, because you have to go to work with that tone. Even if it's not on the forefront of your brain, at some point in the day it's going to be. But it worked, so I don't care.
IFC: I always think it's interesting when comedians make the jump to acting and don't go the sitcom route or do comedies that are basically an extension of their standup routines. What is it that drew you to drama instead of comedy when you shifted into movie and television acting? Why do you think that happens with some comedians?
Leary: I don't know. It really depends on the person's interest. I was never interested in doing a sitcom, which is fine. Ray Romano was, and Ray's sitcom is an American classic. And then I saw Ray's serious show, "Men of a Certain Age," and he was good in that, too. I think it's just that my interests were always twofold. When I was doing standup, I always wanted to get out of the standup world and take it back into the theatrical world, like with "No Cure For Cancer." Those guys thought I was nuts when I talked about that, though. When I was doing standup, guys were desperate for stuff like Letterman and "The Tonight Show," but I never auditioned for any of that stuff. I had no interest in it. I didn't want to change my language or subject matter, but I also wasn't thinking in five-minute chunks. So it just depends on the person. There are some guys I know for a fact, like Louis C.K., who always talk about how not-great of an actor he is, and he's terrific on his show. But I know Louis would play a fantastic dramatic role in something, too. He just needs somebody to grab him and say, "Come in here and do this." It's all about what interests they have at the time and what they want to do.
IFC: So what's next for you? In an ideal world, would you keep doing movies for a while, or would you jump back into another television series?
Leary: I'd love to do another television series. I really love the writing process, and as an actor I really like how much you get to examine in television. I think the medium has taken off in terms of talent and people's interest if you make a good show. I loved it, man. I think that some of the best talent in the world is working in television right now. Great actors, great writers, great directors… even Martin Scorsese! It's great to have talent in movies and television at an even keel. There's a lot of great shit to watch now.