Alan Robert's "Killogy" comic casts famous faces from stage and screen in dark horror story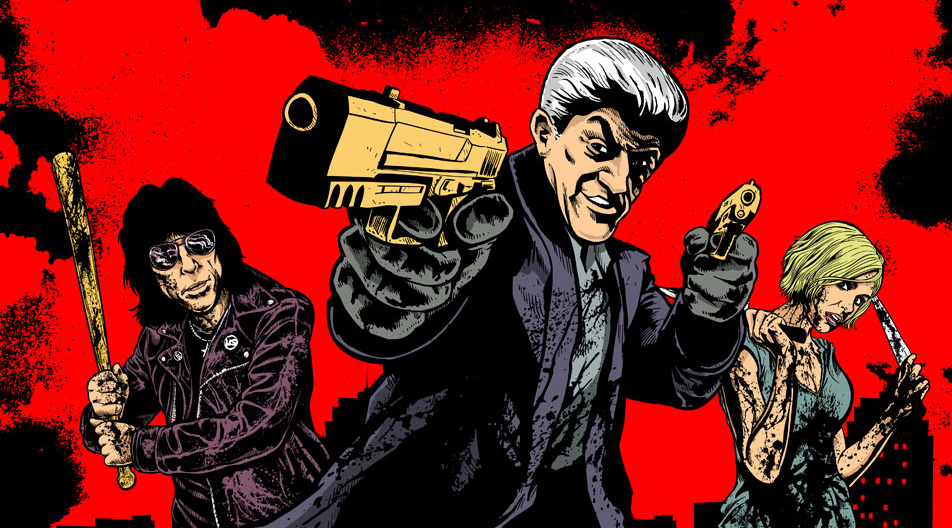 Posted by Rick Marshall on
So a superhero, a Goodfella, and one of the Ramones go to jail…
Sure, it sounds like the beginning of a weird joke, but it's actually the unique concept behind Killogy, an upcoming comic book by Life Of Agony's Alan Robert. But it isn't Robert's pedigree in music or comics that makes Killogy a fascinating project. It's his unique approach to casting the four-issue miniseries, which features the likenesses of three well-known faces as the story's lead characters.
Chronicling the story of three murderers crammed into a jail cell together, Killogy "stars" (for lack of a better term) "Goodfellas" actor Frank Vincent, former Ramones drummer Marky Ramone, and "Heroes" actress Brea Grant, who have not only given the project their approval, but have taken an active role in promoting it. And Robert isn't your average celebrity creator either, having already made a name for himself in the comics world as the creator of Wire Hangers and Crawl To Me, a pair of terrifying miniseries he wrote and illustrated.
IFC spoke to Robert about the unique concept behind Killogy, as well as the films based on Wire Hangers and Crawl To Me that are in the works.
IFC: So, first things first — where did the idea for casting Killogy with real people come from?
Alan Robert: It started out without the likeness angle to it, and after we put the publishing deal in place with IDW Publishing, I knew I really wanted to capture a type of "Twilight Zone" feel with it. The more I thought about it, the more it made sense. One of the cool things about "The Twilight Zone" was that you had all these guest stars you're already familiar with in these new roles, and you got a feel for their characters from their previous acting jobs. You felt like you already knew the characters before the episode even started. So I was thinking about that, and when I was drawing up the characters, they ended up looking a lot like the people we ended up talking to about it. I'm not sure if it's been done before, but I've never seen it done in an original comic like this, so I figured I'd give it a shot. I knew some of the people through mutual friends and we approached them — and one by one it all fell into place.
IFC: Usually when you see this, it's celebrities putting themselves into comics in order to set up future films or television projects — but this seems like a different situation altogether. How does this type of scenario change the way you made the comics?
Robert: It's interesting to write, because their dialogue comes kind of naturally. You already know what they sound like, because their voices are in your head. It's very cool. I'm learning new things every day I work on this, because I don't usually work with a hard script — I create the art first. I have plot points and timelines of when things should happen, but I don't work with an actual dialogue script. I do the art first and create the dialogue after that.
IFC: When you first hit the scene with Wire Hangers, I remember being surprised by the series — and then being surprised again when I learned that you studied cartooning in college. You have a bona fide degree in illustration. So it's not really fair to call you a celebrity comic creator, is it?
Robert: Well, comics is what I wanted to do first. I planned to be an illustrator. I always aspired to be a penciler for Marvel or something like that, but right when I graduated, we got a record deal and the album came out, and I figured this wasn't going to happen again, so I had to see where it went. Now, 20 years later, here I am. I still have a passion for comics, and I figured this would be a great time to do it.
IFC: For anyone familiar with Wire Hangers and Crawl To Me, how is Killogy different from those two series stylistically?
Robert: It's actually completely different, because I'm drawing everything digitally now. That's one of the biggest changes. Stylistically, I wanted it to look different. I'm not really using the atmospheric type of textures I was using in Crawl To Me. The closest thing I can compare it to is Frank Miller meets Mike Mignola — it's very flat colors and a limited palette, with lots of heavy blacks. It's distinctly different, look- and feel-wise. And just conceptually it's a lot different, too.
IFC: This is one of those projects that's hard to ask too many questions about, because I can tell there are some twists in the story that shouldn't be spoiled. How do you describe the plot of Killogy to people?
Robert: What's interesting is that each the stories sort of happen separately, and then I tie them all together. I was talking to a producing partner of mine — we're doing some film and TV projects and stuff — and we were pitching this voodoo-related project to a network. That's where the idea for Brea Grant's story started out. The same goes for the gangster story which Frank Vincent's character embodies. They all started as separate things, and I worked it out so that it comes full circle, and they're all connected.
IFC: I can't help wondering about the Marky Ramone character. He seems like the oddball in that mix, even with Brea Grant and Frank Vincent…
Robert: I wanted to just stick everybody in there who wouldn't get along. It starts out that they share a tiny prison cell together, so they're arguing right off the bat about everything. Marky Ramone plays a recovering gambler who's involved in some kind of heist, and everything goes wrong.
IFC: How much does Marky know about the comic?
Robert: I actually met with him about it, since he's based in NY. He loved the idea. He loves comics, and he was thrilled that his character got a baseball bat as a weapon. [Laughs]
IFC: With something like this, it's hard not to see it as a movie in the making. Is that the idea here? Is this a pitch for a film?
Robert: Sure, this one lends itself to it because it has screen stars involved in it, and it would be great to see it that way, but right now I just want to focus on the comic. It's always a matter of just getting it out of my system, and then we'll see what happens.
IFC: Well, what about those movie projects you mentioned? How are things developing with the "Crawl To Me" movie?
Robert: We've picked up a team of screenwriters after receiving about a dozen treatments from writers who wanted to give it a crack. We chose these two screenwriters and they really have their head around it. We loved their treatment. So we're in script mode now and should have the first draft by mid-July.
IFC: What about the "Wire Hangers" movie?
Robert: That's taken a different path because we wanted to do it mostly in CGI, so it's taking longer to get the visual effects in place. They're doing a pre-vis, where they composite the backgrounds before any actors are added to it. They compile everything in the computer, with all the scenes, and you see how it's going to look before the actors step in. So we're at that stage now.
IFC: So I'm curious about what you're reading these days…
Robert: You know what? I just picked up Scott McCloud's Making Comics. I found a great tutorial of his online on how to do comic lettering in a certain way digitally, and I thought it was a great tip. So once I saw that, I wanted to check out his book.
Alan Robert's "Killogy" will hit shelves in October (around Halloween). You can find more information about it at www.killogycomic.com. His comics "Wire Hangers" and "Crawl To Me" are available now from IDW Publishing.