"After Earth" synopsis hits the web thanks to Comic-Con schedule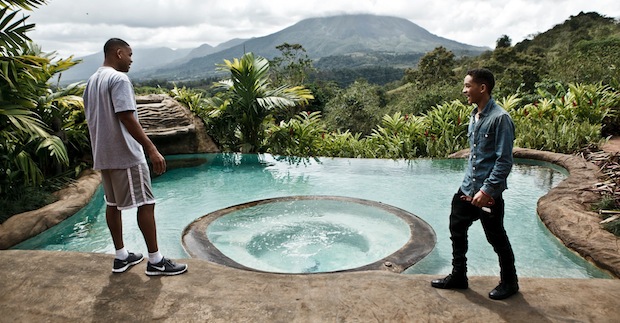 Posted by Terri Schwartz on
"After Earth" might be headed to Comic-Con next week, but don't expect to see anything big from the upcoming M. Night Shyamalan sci-fi film. Instead of stars Will Smith and Jaden Smith or even Shyamalan himself, the film's writer and director of photography are going to be cruising into room 6A to promote "After Earth" alongside its comic book spin-off creators. But even with that panel being a bit of a bust, its announcement included a brand new, in-depth synopsis of the upcoming movie.
Up until now, all we knew about the film was that it follows the Smith's father-son characters after they crash land on Earth many years after it was deemed uninhabitable for humans. It is up to Jaden's character to save his father from the danger they face on Earth. Here's the new plot summary in its entirety:
"In 'After Earth,' one thousand years after cataclysmic events forced humanity's escape from Earth, Nova Prime has become mankind's new home. Legendary General Cypher Raige (played by Will Smith) returns from an extended tour of duty to his estranged family, ready to be a father to his 13-year-old son, Kitai (played by Jaden Smith). When an asteroid storm damages Cypher and Kitai's craft, they crash-land on a now unfamiliar and dangerous Earth. As his father lies dying in the cockpit, Kitai must trek across the hostile terrain to recover their rescue beacon. His whole life, Kitai has wanted nothing more than to be a soldier like his father. Today, he gets his chance."
This summary doesn't really explain how Isabelle Fuhrman and Zoe Kravitz's characters fit into the bigger picture. We know that Fuhrman plays one of Kitai's friends from his home planet while Kravitz and Sophie Okonedo are his sister and mother, but will they only be seen in flashbacks or actually have a larger role to play? We'll hopefully find out once a trailer hits or, at latest, when the movie comes out on June 7, 2013.
Are you eagerly awaiting "After Earth"? Tell us in the comments section below or on Facebook and Twitter.