"Wreck-It Ralph" trailer brings classic video game characters to life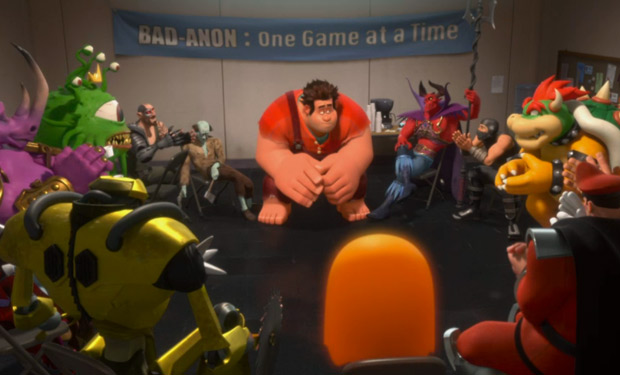 Posted by Terri Schwartz on
With E3 in full swing, there seems like no better time to release the trailer for Disney's animated ode to video games, "Wreck-It Ralph." The upcoming movie features the voice talents of John C. Reilly, Sarah Silverman, Jane Lynch and Jack McBrayer, and follows the story of a video game villain who's sick of being a bad guy.
Wreck-It Ralph is a character who gets defeated by arcade game players over and over again for 30 years, and decides he wants a little more recognition. So he decides to opt out of his own game and head to some other titles where he might be appreciated more. What happens from there is anyone's guess, but the general premise is cute enough for kids and clever enough for video game-playing adults.
Our favorite moment from the trailer comes towards the beginning when Ralph can be seen in a video game villain support group. It's similar to the discarded toys therapy session we saw in "Toy Story 3," except this time with the Ghosts from "Pac-Man" and Bowser from the "Mario" games. Expect many more clever allusions to video game history when this movie hits theaters on November 2.
IFC is on hand at E3 all this week, and we'll be rolling out our content soon. We got to play everything from "Halo 4" to the upcoming "Avengers" Kinect game, all for the sake of you guys. Video games are pretty hot right now, and we're glad "Wreck-It Ralph" is taking advantage of it.
What did you think of this trailer? Tell us in the comments section below or on Facebook and Twitter.