Willem Dafoe still perplexed by "John Carter" reception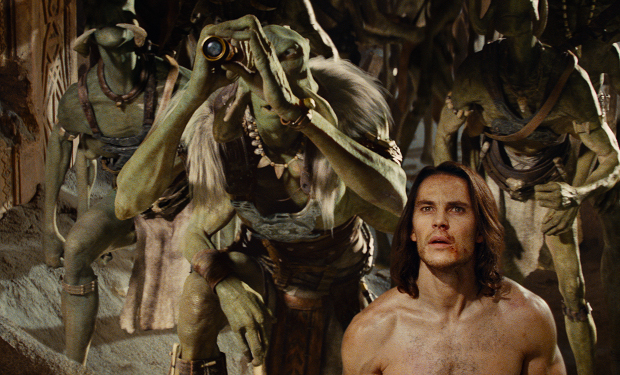 Posted by Rick Marshall on
Andrew Stanton's swashbuckling science-fiction blockbuster "John Carter" could very well go down as one of the most polarizing films in recent history, with audiences split over whether to love or hate the live-action film based on Edgar Rice Burroughs' popular hero. In fact, it appears that there's very little middle ground when it comes to "John Carter" — a situation that frustrates and confuses its fans and critics alike.
For veteran actor Willem Dafoe, who played green-skinned alien Tars Tarkas in the film, the reception to "John Carter" is yet another mystery of the Hollywood machine, as he counts himself among the film's true fans.
"You don't like to publicly lament disappointments too much, but I'm still kind of scratching my head over it," Dafoe told IFC during a recent interview. "For me, I thought 'John Carter' really captured something. It was very pure in its approach. It was classical. It wasn't hip and cool. It was really from the source, and I appreciate that."
"In my experience, sometimes a movie just hits at the wrong time, gets the wrong press, or gets the wrong representation, and it gets misunderstood," he continued. "Sometimes it's hard for people to really decide, too. There's so much reporting about the business and that other stuff, that they really get distracted by some of those things, and then it influences some of the weaker-willed people to not have their own opinion."
For Dafoe, the poor performance of "John Carter" is particularly disappointing given his character's evolving role in Burroughs' stories — a role that would see Tars Tarkas becoming almost as important as John Carter himself in the series' over-arching narrative. With the film only recently making back its whopping $250 million production budget in worldwide ticket sales, the likelihood of a sequel has become unlikely, to put it mildly.
"It sure doesn't seem like [there will be a sequel], which is a shame," said Dafoe. "This was the set-up for what could be a great series of movies. . . I was looking forward to doing a sequel, though, because I know something of where the story goes and the character of Tars Tarkas. He's big, and the relationship with John gets more intense."
"So, yeah — that's a shame," he sighed.
Why do YOU think "John Carter" performed poorly at the box office? Chime in below or on Facebook or Twitter.