Avi Arad on the "Uncharted" movie and why he passed on "Halo"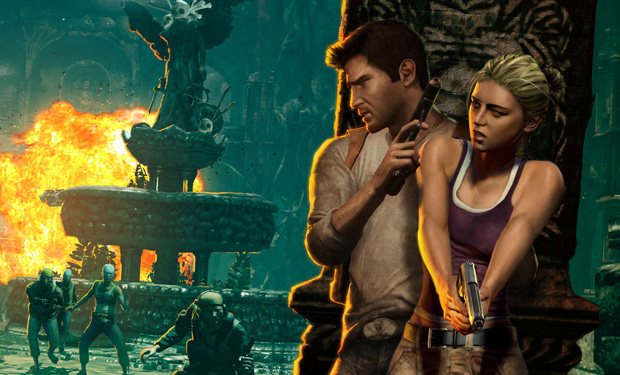 Posted by Rick Marshall on
It's no secret that veteran movie and television producer Avi Arad has played an important role — possibly one of the most important — in bringing comic book movies to the point they are today. Not only did the former CEO and founder of Marvel Studios help bring Marvel out of bankruptcy in the late '90s, but his efforts to bring Marvel superheroes from the page to the screen paved the way for much of the characters' rise to mainstream prominence in recent years.
Over the weekend, Arad was in town promoting his latest page-to-screen project, "The Amazing Spider-Man," a reboot of the popular Marvel Comics character's big-screen franchise that casts Andrew Garfield ("The Social Network") as wall-crawling, web-slinging nerdy superhero Peter Parker. Along with telling IFC all about the new film — which is directed by "500 Days of Summer" filmmaker Marc Webb — Arad also shared some thoughts with IFC about the other genre he's been mining for movie projects lately: video games.
Keep an eye on IFC.com as we get closer to the July 3 premiere of "The Amazing Spider-Man" for more on the webslinger's return to the screen, but with Arad currently nudging along films based on popular games like "Uncharted: Drake's Fortune," "Infamous," "Twisted Metal," and possibly "Metal Gear Solid," we couldn't help picking the producer's brain on the appeal of games as source material and where some of these projects are at right now.
"I think what will happen with 'Uncharted' is that it will be the first of many, because it will be so fun and [I think it will be] a very big movie," Arad told IFC. "So the floodgates will open."
The award-winning "Uncharted" franchise follows the adventures of a treasure hunter named Nathan Drake who travels around the world with his pal Victor "Sully" Sullivan. An "Uncharted" movie has been in development for several years now, with "Limitless" director Neil Burger attached to the project since July 2011.
"We have a great director," said Arad of the film. "So in anticipation, I'm accumulating the kind of games that I'm personally interested in from a story standpoint. They have to have a story."
According to Arad, the presence of a strong narrative thread has often been the deciding factor in which games he pursues for the big screen, and which ones he's content to pass over. And just because a game sells well, that doesn't mean it makes sense as a movie.
"My problem with the 'Halo' games was that there was no face anywhere," he said of his decision not to pursue a big-screen version of the wildly popular "Halo" franchise. "I didn't know what to do with it. I thought about it a lot, because commercially it was huge. But when I look at things like 'Metal Gear Solid' and I'm reading the bible for it, and there's this Cain and Abel story and all this shit, I'm like, 'Now, that is a movie!'"
"But 'Uncharted' was very natural, because it's about historical things." he continued. "Emotionally, there was a very simple story about a boy searching for something, who had no origin, in a way. He was a street rat. And just like my mother used to tell me that 500 years ago we were princes in another country, someone told [Nathan Drake] something that he could hold on to. That makes for enough emotion to make a fun story."
Arad also touched on the difficulty of adapting certain types of games — specifically, first-person shooters.
"Sometimes I would find that video games lacked one particular component: the definition of the hero of the game," he explained. "And that's because you are that character — especially with the first-person shooters."
Still, there are certain elements of the modern gaming scene that have actually made it easier for projects to make the leap from the gaming world to Hollywood, said Arad. And more and more often, he finds himself looking to the gaming industry as often as the comic-book world for the next big thing.
"With the cinematics in games today, I could easily cut a long trailer — a 70-minute animated presentation — just from the cinematics in these games," he laughed. "So video games are already primed to be the next source material."
"And I hope I'm right again," he added.
Is there a video game you'd like to see adapted into a movie? Chime in below or on Facebook or Twitter.