Blink-182's Tom DeLonge talks Angels & Airwaves movies, his new video and being inspired by youth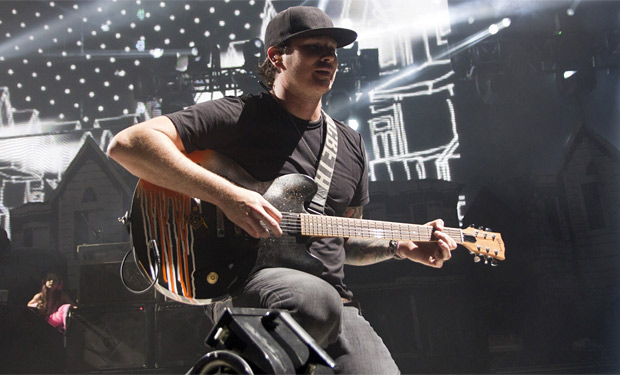 Posted by IFC on
By Chris Harris
Not that you probably couldn't have figured this one out on your own, but Tom DeLonge is one busy lad.
In between running Macbeth Footwear and practicing with his Blink-182 compadres for the United Kingdom leg of the reunited band's 20th Anniversary tour, Tom is also working on new tunes with his avant rock act Angels & Airwaves.
On top of that, Tom runs a technology design firm you may have heard of called Modlife; the company handles the official Web sites and fan clubs for a number of bands, including the White Stripes and Pearl Jam.
"I've always got 50,000 things going on," DeLonge — also a devoted family man — tells IFC, just days before hopping a plane to London for a spate of Blink shows.
DeLonge — with Angeles & Airwaves — has also been branching out artistically, into film.
"We have three movies in the works," Tom says. "One, I have not talked about at all. Another, people know about — it's called 'Poet Anderson,' which is basically an epic about dreams. There is one that will come before that that I haven't talked about yet because we are still deep in the discussions of who we are going to make that with and how. Those are coming, and we have a huge announcement about Strange Times," a recently-launched site devoted to extraterrestrial life, paranormal activity, cryptozoology, and conspiracy theories.
"Strange Times is an Angels & Airwaves initiative as well, so this fall, when I get back from tour, we are launching a lot of stuff and there will be some large announcements for the rest of the year," DeLonge says.
Tom insists he never had the desire to do anything with film until he "convinced" his pals in Taking Back Sunday to let him direct the video for their track "This Photograph is Proof (I Know You Know)."
"I did it [in 2004] and it was so artistically satisfying," DeLonge recalls. "I just loved it, everything about it. I think I have an understanding of that medium. When we created Angels & Airwaves, we knew that we weren't really going to be able to compete in a normal, orthodox way because we didn't have a label, so we kind of felt like the only way we could get people interested in our art was by doing ambitious things. And we decided one of those things would be film."
Last year, the band's first film, "Love" — the story of an astronaut, cut off from Earth, waiting to die as he orbits through space — was hailed by critics for its beauty and imagination.
"We took five years to make 'Love,' and I think we did a really great job," DeLonge says, before taking a second to reflect. "You know, people say, 'I think we did a great job.' I think we did a fucking awesome job." He laughs. "That got us excited about going into more ambitious territory."
In addition to feature length films, Angels & Airwaves continue to push the proverbial envelope with their videos — like latest one for the track "Surrender."
The video was inspired by the political unrest and social media-fueled uprisings that have rattled the Middle East within the last year plus.
"We had the idea of doing kind of a protest video, and we had a tiny budget — $60,000," Tom says. "A week later, Kanye and Jay Z released a video that's very similar; a bunch of kids in the street with riot police, and I guarantee you they spent a half a million bucks on that. There's no difference in the production value whatsoever, and that just shows what we can do and how talented the individuals are we get to work with."
DeLonge says he was inspired by the youth of the globe, "so it made sense to really celebrate the free speech and that protest element," he says. "That, to us, is an important message. They would not let people keep them down and oppress them. The idea of freedom, free speech, and free will will triumphing over the long term — we are seeing that. I think we are seeing a reshuffling of the geo-political order right before our eyes. The new world order everyone has been talking about is starting to take shape, but not in such a malevolent way, hopefully."
While universally recognized for his contributions to rock, Tom comes across as humble when asked whether he's considered how he'll handle being inducted into the Rock and Roll Hall of Fame.
"I couldn't imagine that we would ever be in the Rock and Roll Hall of Fame," he laughs. "I mean, I don't know. I don't know how the process works. If we ever did, I would laugh, and say, 'It all started with a few dick jokes. Who woulda thought?'"
Indeed.