Exclusive premiere: The Mynabirds "Generals"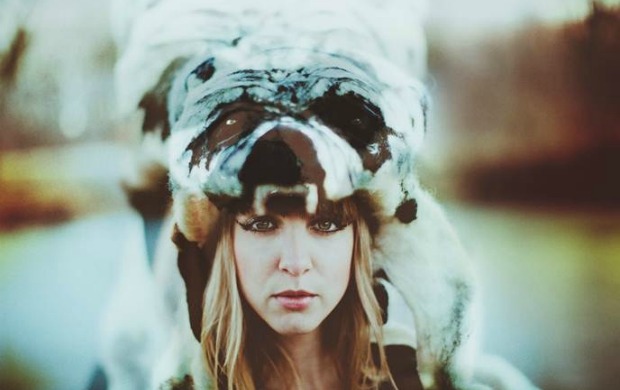 Posted by Melissa Locker on
When Laura Burhenn burst onto the scene in 2010 under the moniker The Mynabirds, she quickly showed that she had what it takes to stand out in a crowded sea of singer-songerwriters. The Mynabirds' debut, What We Lose in the Fire, We Gain in the Flood, was a folk-pop siren call filled with playful tunes and outstanding vocals. The debut showed her roots as a member of Bright Eyes' touring band, calling to mind some of Conor Oberst's evocative pop.
In her sophomore effort, Generals, Burhenn comes into her own, combining her singer-songwriter stylings with a deep vein of political sincerity that runs through the album. "It was important for me that this record made sense of my own anger and turned it into positive energy," Burhenn says. "I needed it to be transformative, of both the individual and the body politic. It's as much a meditation on Walt Whitman's hope for America as Gandhi's directive to 'be the change you want to see in the world.'" For a lesser artist, pairing politics and pop could be disastrous, but in Burhenn's skilled hands (and even more skilled vocal chords) she walks the line between street preacher and songstress seemingly effortlessly.
The result is a more stripped down and raw sounding record that fans of The Mynabirds' debut may have a hard time recognizing. While the sound itself is a far cry from the pretty pop songs featured on her first album, it's a welcome transition that shows just how talented a performer Burhenn truly is. The album is revelatory in its ability to balance the didactic with the inspirational and creating a sound that is both searing and ecstatic.
In conjunction with the release of the album, Burhenn is launching a portrait project called The New Revolutionists in hopes of shining a light on women making a difference, often on shoestring or even nonexistent budgets, in their own communities all over America. It's an admirable project from a woman who has already earned a lot of our admiration.
Here is the exclusive premiere of The Mynabirds "Generals":
video player loading
.
.
.
Want the latest news from IFC? Like us on Facebook and follow us on @IFCtv. You can also like Bunk and Comedy Bang! Bang!.