"The Master" trailer introduces conflict between Joaquin Phoenix and Philip Seymour Hoffman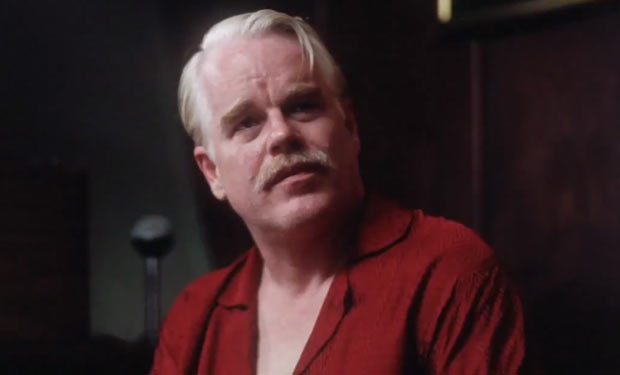 Posted by Terri Schwartz on
The more cryptic the marketing campaign for Paul Thomas Anderson's "The Master" makes the film seem, the more interested we are in it. A second trailer for the flick has hit the web, and though we now understand a little bit more of the relationship between Philip Seymour Hoffman's character and Joaquin Phoenix's, we're also left with plenty more questions.
More than anything, we love the way that this trailer doesn't quite match up. The teaser opens with a shot of Phoenix running to jump on a truck that is driving by, but we hear a conversation between him and Hoffman where the latter asks, "Why all of the stalking and sneaking? You've wandered from the proper path, haven't you?"
Later, the same sort incongruity happens when we see a single shot of Phoenix walking yet hear a medley of conversations happening between a variety of people. Hopefully this and the even less explanatory trailer that came before it are indicative of Phoenix's character's mental state in this flick. That seems like something Anderson would throw at us.
"The Master" tells the story of a man known as "the Master" (Hoffman) who creates a set of religious beliefs along the lines of Scientology or Mormonism and watches as it catches on in America. Phoenix plays a soldier who has trouble settling into his life until he meets the Master, and then finds his sense of purpose and becomes the man's right-hand man. All is well until he begins questioning his decision to do so. Amy Adams' character is also introduced in this trailer, and it looks as though she plays another follower of the Master.
Also starring Laura Dern, Jesse Plemons and Rami Malek, "The Master" is set to hit theaters in limited release on October 12.
What did you think of this new trailer? Are you intrigued by "The Master"? Tell us in the comments section below or on Facebook and Twitter.