"The Host" photos introduce Jake Abel as love interest Ian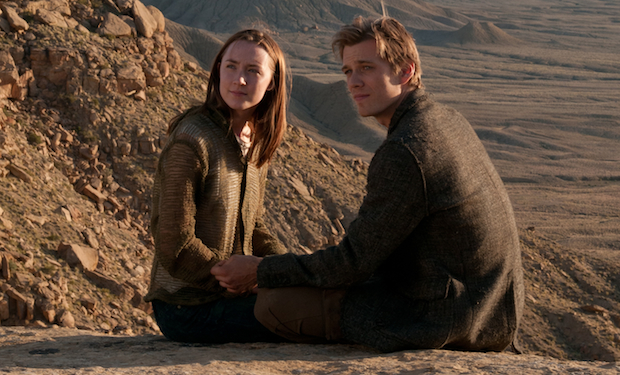 Posted by Terri Schwartz on
Slowly and steadily, we're getting a good look at what we can expect from "The Host."
The first teaser trailer for the adaptation of Stephenie Meyer's foray into the sci-fi genre didn't show us much of the actual film. Instead, it set up a world where humanity had been taken over by a race of aliens known as Souls who invade our bodies and get rid of all of our desire to fight and war. But one Soul named Wanderer begins to empathize with the enslaved humans, and ends up going to meet up with them in their rebel camp.
It's that setting — a giant cavern in the middle of an Arizona desert — that we're most interested to see. Some sites were lucky enough to visit the set and tease us with a glimpse of the massive set piece. It's there that Wanderer meets three of the most important characters in "The Host": Jared, the boyfriend of the woman whose body she has captured; Jeb, the woman's eccentric uncle; and Ian, a human that she falls in love with all on her own.
The catch to this story is that the human Wanderer is attached to, Melanie Stryder, is still aware of her surroundings. Typically when Souls are placed in a person's brain, they wipe out — or at least subdue — the human's personality. Not so with Melanie, which leads to some interesting romantic tension between Wanderer/Melanie, Jared and Ian.
Entertainment Weekly has released two new images that introduce us to Ian. Jake Abel was cast in the role back in November, and ever since we've been wondering how he'd look in character. We already got a tease of Max Irons as Jared back when the trailer was first released.
Saoirse Ronan of course looks fantastic as Wanderer/Melanie in these pictures as well. "The Host" is going to ask for a complicated performance from its leading lady, and Ronan seems like the best person to be up for the challenge. Now we just need a longer trailer that shows us some of the set pieces from the movie to give us a good sense of how "The Host" will look — and sate our curiosity.
What did you think of these new two images? Are you excited for "The Host" to hit theaters? Tell us in the comments section below or on Facebook and Twitter.