"The Dark Knight Rises" MTV Movie Awards footage features lots of Catwoman and Bane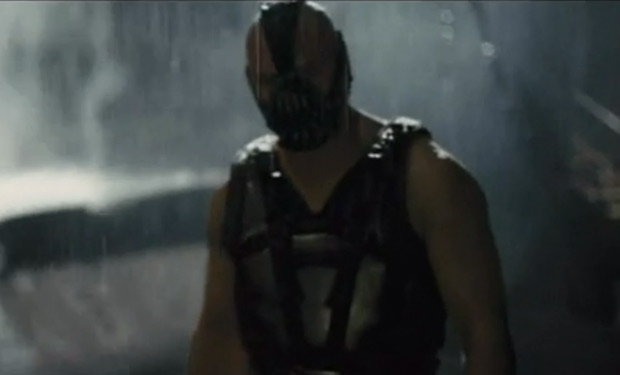 Posted by Terri Schwartz on
Though it wasn't up for any awards, "The Dark Knight Rises" came out the true winner of last night's 2012 MTV Movie Awards.
Director Christopher Nolan and stars Christian Bale, Gary Oldman and Joseph Gordon-Levitt were all on hand to present some heavily hyped new footage at the awards show. It was supposed to be for Movie Awards viewers' eyes only, but ComingSoon.net managed to get their hands on the teaser, which is watchable in the video below. Make sure to view it while you can, because there's a very high likelihood Warner Bros will yank it as soon as possible.
The minute-and-a-half long collection of scenes from "The Dark Knight Rises" heavily features Anne Hathaway's Catwoman, and we've got to say, we're impressed. The trailer makes it seems like she and Tom Hardy's Bane are going to have a lot of screen time together, but we think that might just be clever cutting. It is interesting to see her and Joseph Gordon-Levitt's character play opposite one another. And what about her prison scene flip!
We also get to clearly hear that Bane is now legible. His showdown with Bale's Batman is teased towards the end of the video, and it looks freaking badass. Gotham doesn't seem like it's getting out of this one unscathed.
The big question for us is whether Hathaway is talking about Bane or Batman during her conversation with Gordon-Levitt. We want to think Bane, but considering Batman is a fugitive when we last see him in "The Dark Knight," it could be that she's talking about our favorite caped crusader. We'd be interested to hear your thoughts on this in the comments below.
Still, this looks like the movie event of the summer. None of the previous marketing for "The Dark Knight Rises" got us as excited as this sizzle reel did. And when that man says, "Oh boy, you are in for a show tonight, son," we know he's talking directly to us.
Directed by Christopher Nolan, "The Dark Knight Rises" also stars Michael Caine, Marion Cotillard and Morgan Freeman. It's coming to theaters and IMAX on July 20.
What did you think of this footage? Tell us in the comments section below or on Facebook and Twitter.