The Lizard heads to Oscorp in new "The Amazing Spider-Man" clip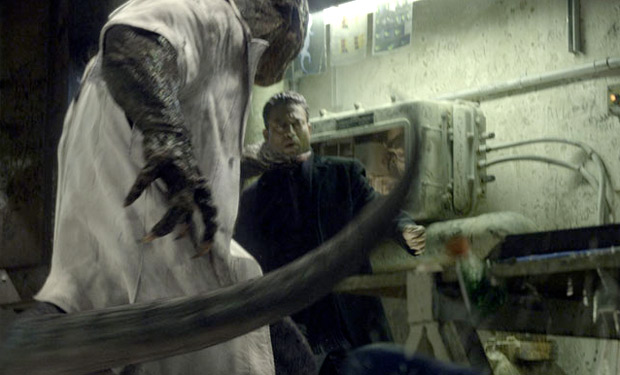 Posted by Terri Schwartz on
A new clip from "The Amazing Spider-Man" debuted on "The Tonight Show with Jay Leno" last night and features a sequence showing The Lizard coming to Oscorp. It's pretty badass, so we would say it's even worth listening to three minutes of Jay Leno just to get to it. Emma Stone manages to make it all worthwhile, and somehow during that period of time she makes watching Nickelodeon show "iCarly" seem like the most interesting show we ever had no interest in seeing.
This clip seems to take place towards the end of the movie, based on the dramatic music and the fact that Dr. Curt Connors is already mutated. We love the tension in the scene, and the way it showcases Peter Parker's relationship with Gwen Stacy. It's clear from this that she's no damsel in distress, and Stone's strength as an actress makes Gwen's decision to put herself in danger seems brave instead of idiotic. Everything new we see of Andrew Garfield's Spiderman makes us more and more invested in his version of the character, and that can be said about this clip as well.
And now at least we know where this still came from.
Starring Andrew Garfield and Emma Stone, "The Amazing Spider-Man" focuses on Peter Parker's journey to discover the secret of his parents' early death. That brings him face-to-face with Dr. Curt Connors, played by Rhys Ifans, who ends up becoming the film's villain, The Lizard. It's due in theaters on July 3.
What did you think of this new clip? Tell us in the comments section below or on Facebook and Twitter.