"The Amazing Spider-Man" almost had a cameo in "The Avengers"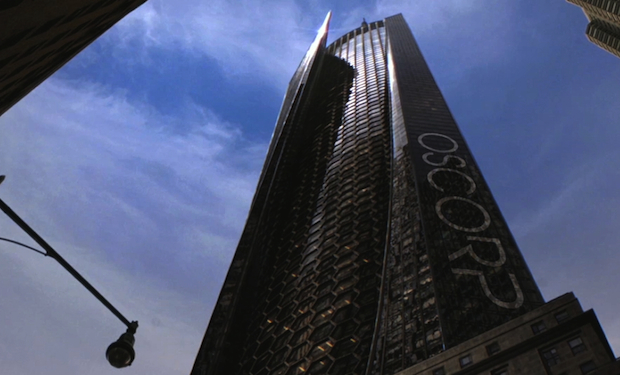 Posted by Terri Schwartz on
Now that "The Avengers" is out and dominating the box office, it's time to look back at what might have been. A good portion of the film's plot is dedicated to the creation of Stark Tower, but apparently that wasn't going to be the only famous Marvel skyscraper gracing the movie's New York City skyline.
In an interview with Latino Review, "The Amazing Spider-Man" producers Avi Arad and Matthew Tomlach dished that they had planned to sneak the Oscorp Building into "The Avengers."
The Oscorp Building (as pictured above) will play a pivotal role in "The Amazing Spider-Man." Dr. Curt Connors, who ends up becoming the Lizard, works for Oscorp, and Gwen Stacy is an intern there. More importantly, Peter Parker's father used to work at Oscorp before he disappeared when Peter was a child.
We've seen Oscorp in the Sam Raimi "Spider-Man" movies as well. Norman Osborn, the founder of Oscorp, was the villain of "Spider-Man" after one of his experiments went awry and he turned into the Green Goblin (Willem Dafoe). His son Harry Osborn (James Franco) used to be Peter's best friend before he discovered his father's secret identity and fate at the hands of Spider-Man. He would later become the second Green Goblin.
As we all now know from the lack of the building in the flick, it didn't work out. But it wasn't because Marvel and Sony weren't interested. Instead, the crossover didn't work because the "Spider-Man" design team wasn't done crafting the Oscorp Building by the time "The Avengers" needed it.
J Michael Riva, who recently passed away, was responsible for the design of "The Amazing Spider-Man's" Oscorp Building as well as the Stark structures in the first two "Iron Man" films. Because of the stylistic similarities, Disney and Sony started discussing — and reportedly agreed on — having that small connection (the inclusion of Oscorp) bridge their two superhero franchises.
This isn't the first time Marvel has tried to cross over Sony's superhero universe with their own. Back when the studio was developing "The Incredible Hulk," there had been a brief hope that Sony would allow Marvel to have a Peter Parker cameo at the university where Bruce Banner worked. It never panned out, but maybe third time is the charm?
Actual character crossovers between studios is a "business impossibility," but Tomlach did say that Sony would love to team up with Marvel in the future to do some crossovers on a smaller level.
Would you want to see Spider-Man make an appearance in the Marvel cinematic universe? Tell us in the comments section below or on Facebook and Twitter.