Steve Carell and Keira Knightley talk "Seeking a Friend for the End of the World"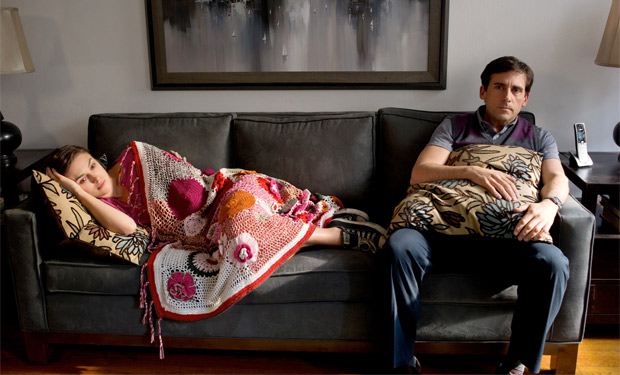 Posted by IFC on
By Jennifer Vineyard
An asteroid is headed towards Earth, and unlike "Armageddon," "Deep Impact," or any other apocalyptic movie where they manage to save the day at the last possible moment, in "Seeking a Friend for the End of the World," the world is assuredly coming to an end. For some people, that means it's a time to indulge, hook up, or even buy insurance policies that are pretty much guaranteed now to pay out. In other words, it's a comedy.
"It's obviously absurd," lead actor Steve Carell told IFC. "It's an absurd premise, and the thought that this could be a comedy was appealing to me, because within all the heartache and the struggle that these people are going through, there are things that are inherently funny about it."
When Carell's character Dodge gets the news that there is a definite end to the world, he goes about his daily life as if nothing has changed — at first. "It's ludicrous, but I understand it on a certain level, that people need that sense of comfort and structure to even continue," Carell said.
But after a while, even Dodge wants to get out of Dodge — his wife has already left him (right after hearing a radio news report notifying listeners that the final mission to save mankind has failed). That scene has an extra layer of irony, because it's Carell's real-life wife playing the part.
video player loading
.
.
.
"I called up his agent," writer/director Lorene Scafaria told IFC, "and I remember saying, 'Is it an insult to ask if Nancy would come do this?' I just thought that would be so great. And she turned to him with such poison in that scene!"
"I know!" Carell laughed. "I saw the same thing, and frankly, I've seen that poison before. It's a very scary place to be." Plus Nancy Carell doesn't just leave — she runs. "I don't think I had ever seen her sprint before," the actor said. "I've never seen her move that quickly."
The married couple shot the break-up scene on their real-life 16th wedding anniversary. "Happy anniversary!" Scafaria laughed. "That was pretty wild, to have her run away from him over and over on their anniversary. We made it up to them — we got them a cake with an asteroid smashed in the middle of it." "The crew sang us 'Happy Anniversary,' and it was nice," Carell said. "To be with my favorite person is always a good thing."
Carell's favorite person in the movie, however, is played by someone else — Keira Knightley, in a rare comedic turn. Her character Penny lives in Dodge's building, and the two pair up to help each other scratch off some things on their bucket lists. For sad sack Dodge, he wants to meet up with a lost love , and for optimistic Penny, she wants to see her family one last time. Road trip!
"I liked how the two individuals were separately navigating this really difficult time," Carell said.
"Penny's just such a wonderfully written character," Knightley told IFC. "It's clear that she had attributes from our director, so I just kind of watched Lorene a bit and went, 'Oh, yeah, I get it.' I mean, Lorene's so fabulously positive and so enthusiastic and she's totally able to say, 'This moment is wonderful.' She's got the sense that world is a really great place, and it might go kind of wrong, but she's able to come back to the fact that this is all great, and I love that about her."
Scafaria poured her own flakiness into Penny, as well as her own regrets. "A lot of how she says she was spending time with her ex-boyfriends instead of her family at holidays, that was coming from a real place," the writer/director said.
Since Penny is a bit scatterbrained — "she doesn't know whether to go in this direction, or that direction," Knightley said — she needs Dodge's guidance. And Dodge needs her infectious high spirits to start living his life, since he's only got a few weeks left of it as it is. Could sparks fly between the two of them? Only if Penny's ex (played by Adam Brody, Scafaria's real-life ex-boyfriend) can also get out of the way.
video player loading
.
.
.
"I thought that was so fun," Scafaria said, "because Seth Cohen [from 'The O.C.'] is what he's so famous for. He's like the quintessential dream boyfriend, so I thought it would be pretty fun to put in the exact opposite role. We grew out his beard to be three times longer, to be as scruffy as possible. We had a blast. His scenes [during a riot] were some of the toughest to film, and it was so great to have someone I'm so close with to be there and portray that part."
Brody also suggested ideas for scenes other than his, such as when a trucker gives a lift to Dodge and Penny, only to meet his maker a little sooner than the rest of humanity. His death becomes comedic when the two accidentally bury something else with him — the keys to his truck.
"That is truly, truly Adam's," Scafaria said, "And hats off to him. We always got such a big kick out of that. Adam helped with the script more than anybody else. He was somebody who I bounced ideas off of every single day. He was along for the entire process," including the soundtrack. "That Hollies song, ['The Air That I Breathe'] that came from a mix he made for me."
Scafaria, Brody, and the movie's composer Jonathan Sadoff also have a band called the Shortcoats, which might explain why a love for music permeates the film: Penny's first thought when she has to evacuate her apartment is to grab her collection of vinyl records, and Dodge's way of connecting to someone in his past is to play the harmonica.
"I've always loved 'American Graffiti,' the DJ kind of taking you through something," Scafaria said. "But this especially, because what would you really want to consume at the end of the world? Besides all the food you can eat, and sex, I thought people would crave music. Music ends up being a collection of memories for people, so you could remember a time with a song. It's the best of humanity mix."
Although Penny plays the main music enthusiast of 'Seeking,' Knightley isn't a huge fan herself. "I can't say that I'm like one of those people who really, really love it," she said. "But I really enjoyed playing somebody who loved it." That won't stop her from playing another music fan in a film Judd Apatow is executive producing called "Can A Song Save Your Life?" — in which her character moves to New York with her boyfriend (Adam Levine) to take a shot at a singing career. This, of course, will require her to sing — which Knightley's done before, but in the little-seen period film "The Edge of Love." "I feel I'll do alright," the actress said. "I'm sure we'll find some way of making me sound all right! They have to." Her main practice comes when she's "really, really drunk" and sings karaoke — because "the idea of singing in front of anybody terrifies the life out of me," she laughed. Her go-to song? One that's fitting for the end of the world — "I Will Survive."
"That's very optimistic!" Knightley laughed. "If the world is ending, I'll be floating out in space… but I will survive!"