LAFF: Steve Carell hopes Brick is "exactly the same" in "Anchorman 2"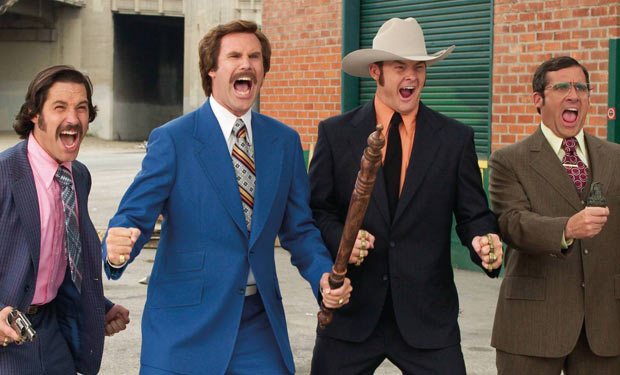 Posted by Terri Schwartz on
Things are going to be changing for the KVWN Channel 4 Evening News team in "Anchorman 2," and none of our favorite news anchors are going to like it. In fact, based on what we've heard of the upcoming comedy from writer/director Adam McKay, they're all going to resist any potential change in their lives with their last fighting breaths.
But will the characters themselves change? Will Ron Burgundy realize that "diversity" isn't actually an old wooden ship and will Brian Fantana finally stop wearing Sex Panther cologne? We hope not, and the teaser trailer for the flick makes us thing that our fears are unfounded. When we caught up with Steve Carell at the red carpet premiere for "Seeking a Friend for the End of the World" at the Los Angeles Film Festival, we couldn't resist asking if he thinks Brick Tamland will be any different when we see him in "Anchorman 2."
"I hope not," Carell answered. "I hope he's exactly the same and I hope he is still just that guy in the background saying weird things. He's just a half-step behind."
McKay has said that the teaser, released last month, is more a promise of things to come than an actual trailer for the flick. But in it, Brick Tamland is still the same old Brick we fell in love with for screaming, "I don't know what we're yelling about!" and killing a man with a trident. He can't say more than the upcoming movie is "going to make you cream" — pretty much exactly what Paul Rudd's Brian Fantana said before him. And despite all of Will Ferrell's Ron Burgdandy's best efforts, Brick cannot come up with a single individual thought.
Thank goodness.
Back when "Anchorman 2" was first announced, McKay said that the film would likely take place during the shift to the 24-hour news cycle in 1978 and 1979.
"All of a sudden, local news stations diversified and had Latino anchors and African-American anchors, and any time you're talking about diversity and the Action News team, that's always fun to deal with," he said. "We know these guys never deal well with change, and the good thing is that there's a big blast of change coming, according to the regular timeline. We're going to be throwing a lot of innovation at them, and they're not going to handle it well."
Would you want there to be any changes made to Brick as a character? Tell us in the comments section below or on Facebook and Twitter.