"Starship Troopers" remake will ditch the violence, add the Jump Suits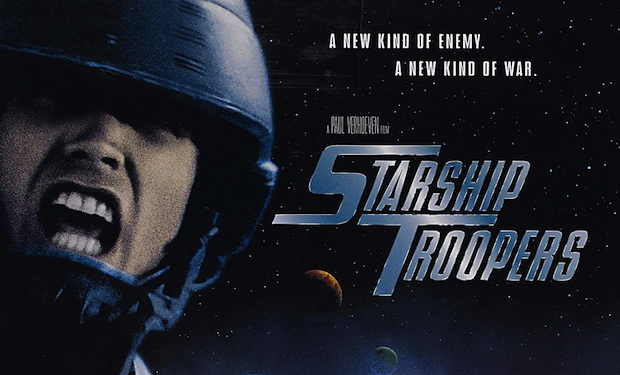 Posted by Terri Schwartz on
When Sony's planned "Starship Troopers" remake was first announced, we were skeptical. It was unclear what direction "Thor" and "X-Men: First Class" screenwriters Ashley Edward Miller and Zack Stentz were going to take the story in, and that made us nervous.
Paul Verhoeven's 1999 film combined elements of Robert A. Heinlein's 1959 novel of the same name with his own satirical take on the military and government to scathingly hilarious results, so how would this one stack up? A new interview with Toby Jaffe, who is acting as producer on the film, leads us to believe that the remake is going to be played a bit closer to the chest.
Empire recently caught up with Jaffe and asked him about the planned return to the "Troopers" universe. He likened it to Sony's reboot of "Total Recall," which has stripped away the silly elements of the original movie and added a grittiness that stays truer to the source material. He also said their remake is not going to be anywhere near as violent as the original "Starship Troopers" was.
"The more expensive a film is, the harder it is now to make it that violent," Jaffe said. "With 'Recall' in particular, we made a conscious choice to keep it tonally closer to something like 'Minority Report.' It gives the studio, and us as producers, the opportunity to reintroduce it in a new way."
But don't throw your hands up in disgust right away. The fact that this new "Starship Troopers" isn't going to be a straight remake of Verhoeven's original is a good thing. No one else can make a film like him, so why try? The way Jaffe talks about the remake makes us thing that it could be a visual treat instead of a criticism of our military and political system. Let's face it, it could be something much worse instead.
"Working in a visual-effects renaissance as we are, we have the ability to do so much more now. We can do the Jump Suits [armoured exoskeletons from Heinlein's novel], for example, which I don't think they could have done before," he said.
What do you think about these new insights into the "Starship Troopers" remake? Tell us in the comments section below or on Facebook and Twitter.