"Star Trek 2" will deal with Kirk becoming a better captain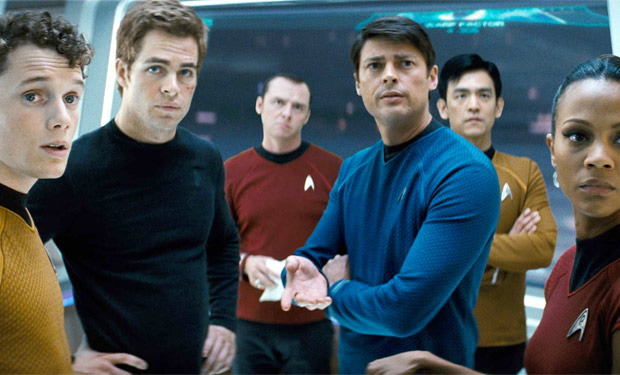 Posted by Terri Schwartz on
We don't know much about "Star Trek 2" beyond the fact that it's coming out on May 17, 2013 and features the return of director J.J. Abrams and actors Chris Pine, Zachary Quinto, Zoe Saldana, Karl Urban, Anton Yelchin, John Cho and Simon Pegg, while also introducing a new villain played by Benedict Cumberbatch. In fact, not only do we not know the plot of the film, but we're also clueless about who Cumberbatch is even playing.
"Star Trek 2" co-writer Alex Kurtzman is busy around town promoting his directorial debut "People Like Us" and, though he didn't answer any of the big questions we asked above, he did tease some of the plot elements we can expect in the upcoming "Star Trek 2" during an interview with The Hollywood Reporter. Chief among them is the fact that Captain Kirk might not actually be the best captain.
"[Jim Kirk] inherits the Enterprise at the end of Star Trek, but that doesn't mean he fully understands what it means to be Captain," Kurtzman said. "It just means, oh, he has the Enterprise now — so now what? He's never sent men and women to their deaths before, so what's going to happen when that kind of question comes up for him? I guess I normally look at it from a place of pure character."
Kurtzman didn't answer whether or not "Star Trek 2" will pick up immediately after the events of the first film, but we'll guess it doesn't based on the fact that "Star Trek: The Game" is supposed to take place during the time between both films. With that being said, Kurtzman teased that the crew of the Enterprise won't be the same one that people love from the old "Star Trek" series.
"I can say the assumption that we did not want to make was that just because he's in the chair and they're on the bridge together that they're the crew that you remember from the original series," he said. "They're not — the crew from the original series had gone on many, many journeys, they were a well-oiled machine in terms of how they function, and these characters are still figuring out who they are and who they are to each other. And I did not want to jump so far ahead that we missed a really important emotional connection to that transition for them."
And if you're annoyed that "Star Trek 2" has taken so long to hit theaters, you shouldn't be. Kurtzman explained that the delay until 2013 wasn't just to add 3D, but to make sure that the movie's finished product was worthy of people watching it.
"We were supposed to be out this year in theaters, and part of why we all collectively said we really shouldn't do this is because we put a lot of love and time and effort into making this without violating canon, and yet bring something totally new to the table when it came to 'Star Trek.' The last thing we wanted to do was destroy that by letting a speed mandate mess up our storytelling, and we just felt we weren't ready," he said. "The studio wanted us to shoot in 3D which is awesome, but what you don't want to do is rush through 3D. … And God bless J.J. for saying 'we need another year.'"
Are you looking forward to "Star Trek 2"? Tell us in the comments section below or on Facebook and Twitter.